I LOVE a nice manicure and/or a full set. Got change things up ya know? As such, I always make sure to leave space in my budget every month so I can keep my fingers looking fresh! My husband says my budget is excessive simply for my nails…but he just doesn't understand. 😂
I'm in and out of the salon so often, I've started to pick up on how the trends change throughout the year. Sometimes, I stick with what's popular but other times I like to go against the grain. We all need a little neon pick-me-up by the time January rolls around, right??
Fall may be my favorite season for trendy drinks and food. I am such a sucker for cozy sweaters, warm tones, and – my ultimate weakness – pumpkin spice lattes. But Summer…it's game time! I am trending all summer long with nails, shoes and hairstyles…and of course my Starbucks Passion Tea Lemonade.
In true Tiffany fashion, I'm mixing the best of both worlds…I'm bringing you all trends that work for all seasons, but especially summer. These are nail trends that I've been noticing this year and they are are so cute! Makes me wish I could get my nails done every week…but Jesse would loose his good mind!! 😝
Top Nail Trends in 2021
Colored French Tips
We all know and love the classic white French tip, but I have been seeing these beautiful medium-length, almond-shaped sets tipped with fall colors like burnt red, forest green, and navy blue. I love this because it's simple and elegant but still a little fun! I'm also seeing some "double-dipped" French tips where there are two colors that complement each other swiped across the tip of the nail. It gives the Frech mani a seriously bold makeover!
Skittles Mani + Full Set
If you're the type of person that can never decide when color they want to paint their nails, you're in luck! This season, painting each of your nails a different color is totally in. You just can't go wrong with shades that remind you of fall leaves, Halloween, and apple cider! Or colors that remind you of sangria, sunsets or even a neon rave party. The options are limitless, as are the designs.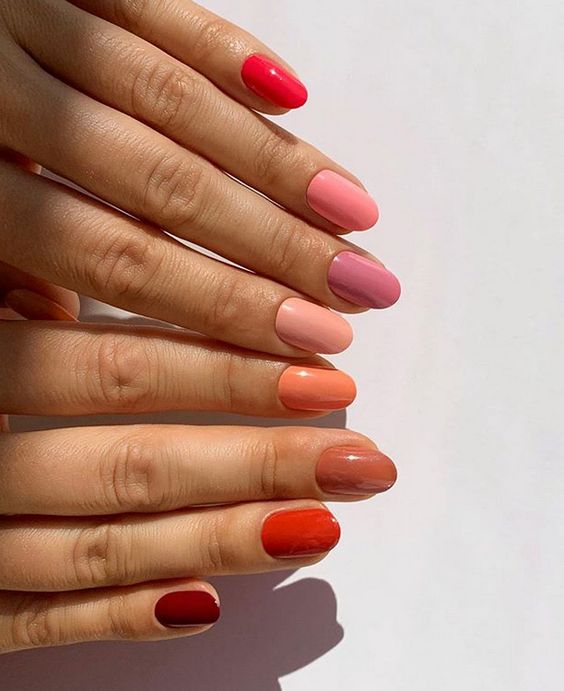 Nail Trends in 2021 – Patterns from the '70s
I know this sounds oddly specific, but I've been noticing a lot of nude nails with bold wavy lines that remind me of lava lamps; as well as yin yang patterns! I've also been seeing a lot of Geo print and animal print. All of which reminds me of the 70's!
If you're going to go with this style in the fall season, I highly recommend going with a deep purple or mustard color. Thinking more pop of color for summer? I got you, I would go for more of an cherry red or terra-cotta orange.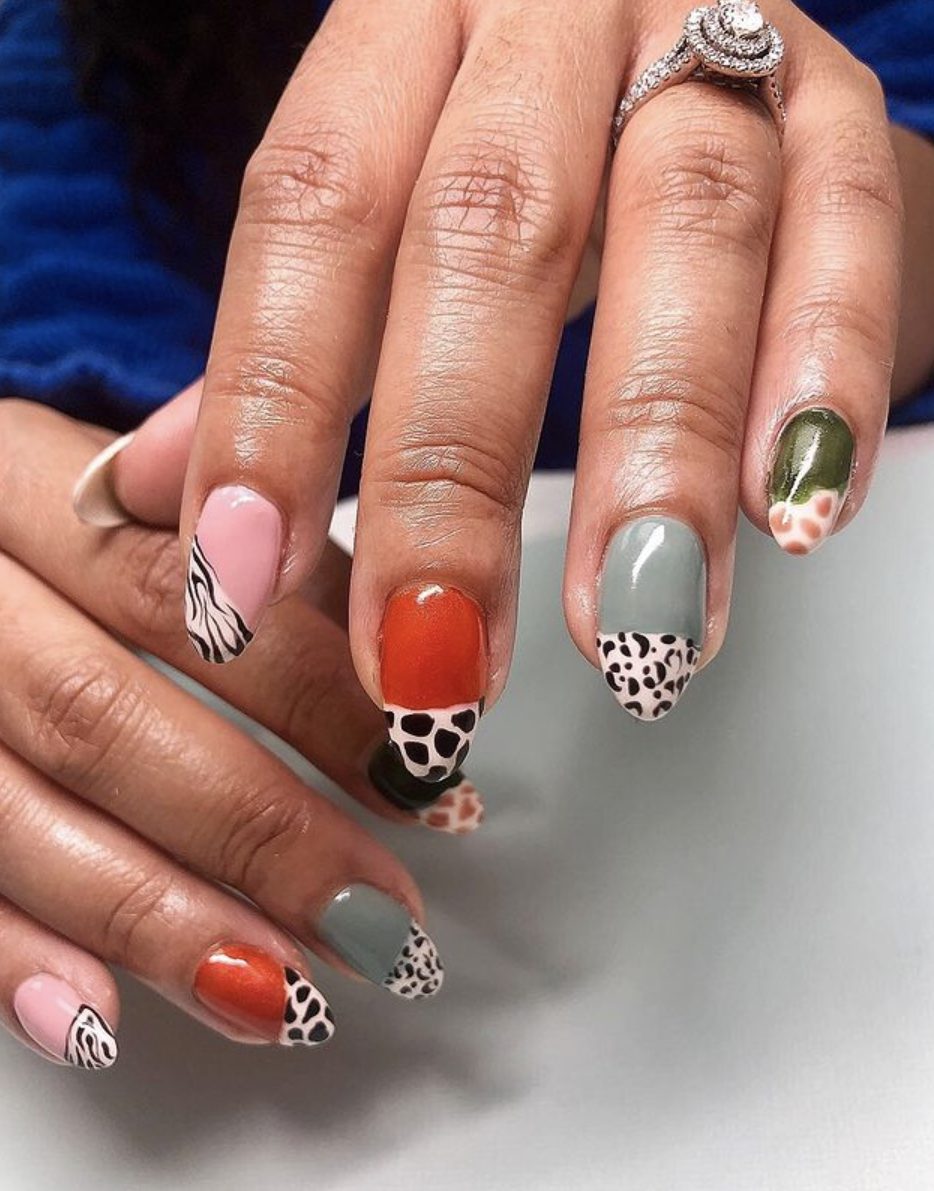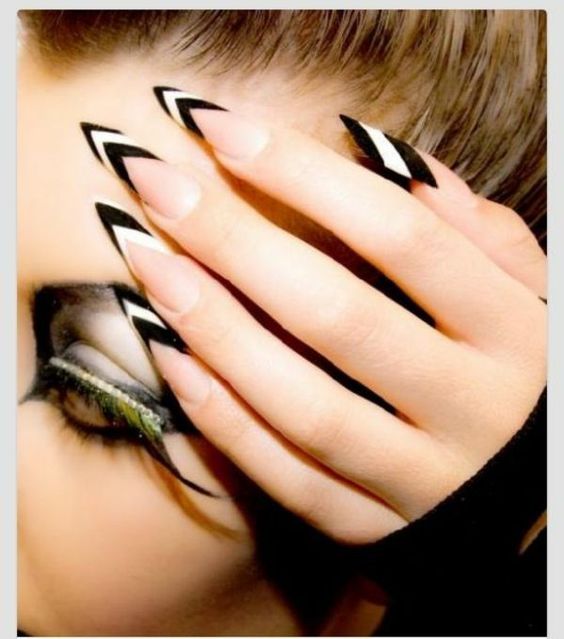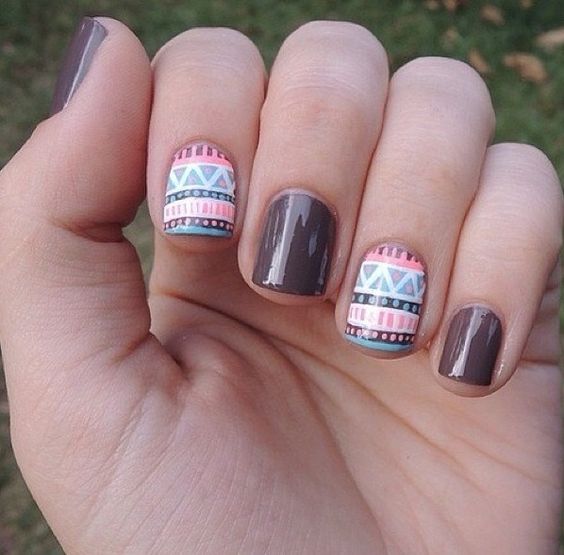 Press on Nails
What!? Press on nails seem so early 2000s, right? Well, after the coronavirus shut down nail salons for a period of time, lots of businesses seriously stepped up their press on nail game (check out some artists on Etsy)! A lot of brands are making a comeback with their Press On nails as well. Just check out KISS, they did not come to play with these glitzy coffin shaped nails, you can snag at your local Target for $7.99!!
But if you're feeling you want something a little more custom, you can place an order with the Fairy Godmother of Nails, Kiki of KreationsByKiki. Personally, I love this nail trend because you can get a beautiful set of press on nails when you're on the go. If you wanted, you could literally have a different set for everyday of vacation…or life! 🤪 They're great to have on hand for those weeks when you're pinching pennies or occasions when you need a quick mani but can't get to the salon!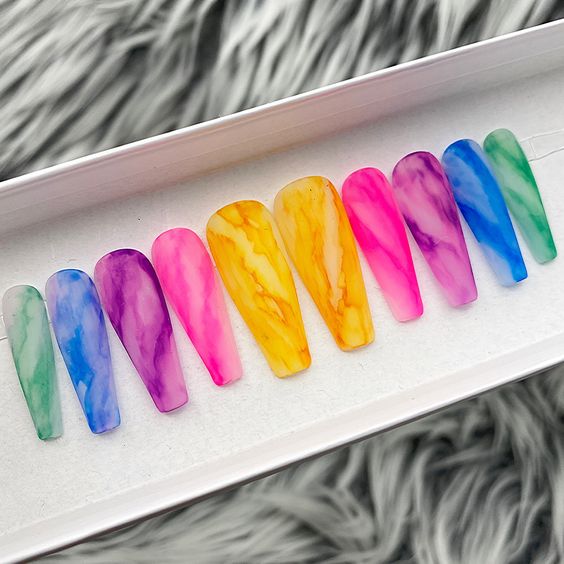 Gradient & Ombre Nails – Nail Trends in 2021
Ombre nails were huge last summer and they're making a comeback this summer! But this summer it's also all about the gradient. With gradient nails, the thumb is painted the darkest shade, and the pinky finger is painted the lightest. You can't go wrong with a beautiful gradient of forest green to granny smith apple green!
What are your favorite nail trends this year? Tell me below! And tag me on Instagram (@tiffanyturnermoon) so I can see what y'all are workin' with!