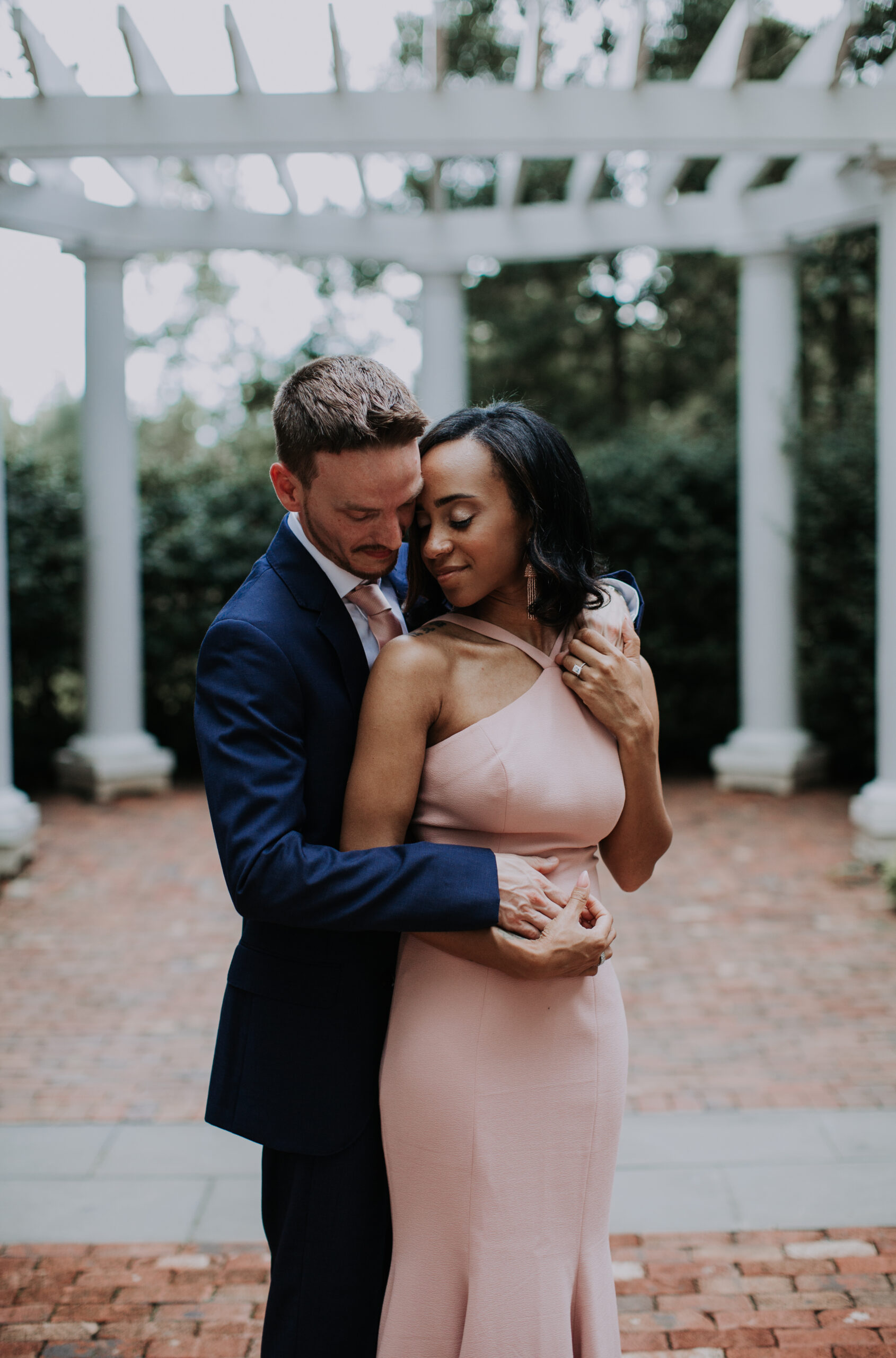 "He walked into my heart, like he always belonged there, took down my walls and lit my soul on fire." – T.M
To have someone be the mirror to your soul, place you first in all things, love God as you do and compliment who you are, is so rare! I am so thankful for all the roads, good and bad that have led to this place in my life.
Okay now enough of the mushy stuff, for the moment!
So If you all haven't already seen it on my Instagram (@TheNorthernBelleoftheSouth), Jesse and I went to Charlotte, NC this weekend to have our Engagement photos taken by Dani Nicole of Dani Nicole Photography.  And we did them at none other than THE Duke Mansion. Talk about breathtaking! Whew!  I don't think a year ago, I would've thought this is where I would be!
Let get into it, shall we?!
Duke Mansion Engagement Photos Pt.1
When Jesse asked me to marry him, I was shocked and honored. This man loves me, faults and all. I have never experienced such unconditional love and unwavering support from a significant other before. Though my daughter is from a previous relationship, he adores her as he does me, and ensures we are both happy no matter what. I thank God daily for bringing him into my life at the time he did. I know if I'd met him before now, I probably wouldn't have been ready for everything he encompassed and I fear had I met him later than I did, I would've been too jaded to realize a good man when I see one. All things honestly do work together for the greater good.
Anywhoo! We decided to do our photos at The Duke Mansion rather last minute, but it as probably one of the best decisions we've ever made. I knew I wanted a semi-formal & a semi-casual look. (Be on the lookout, I will be doing another blog post (Pt.2) with our semi-casual look early next week.)
Our photographer, Dani, was only more than willing to oblige.
After much searching and A LOT of mistaken"this is the dress!" moments, my heart settled on a blush colored mermaid gown for my semi-formal look. I've always had a great appreciation for a muted or pastel color with a deeper and robust color to offset it, hence Jesse's navy blue suit, velvet loafers & blush colored tie to tie it all together with my outfit. For my shoes, I opted for some bling (as if the bling Jesse gave me when he proposed wasn't enough!
I hope our genuine friendship and mutual respect and love for one another speaks to you and inspires you!



Dress: Dress the Population | Earrings: BaubleBar | Heels: Pelle Moda | Suit: The Black Tux (Rental) | Men's Dress Shirt: Calvin Klein | Tie: The Tie Bar | Watch: Movado | Men's Shoes: Steve Madden
I think my favorite part of these photos in this session was being twirled around by Jesse and then dipped, AND standing under that big beautiful chandelier. We couldn't have done this without our photographer turned friend, Dani. If you're ever in need of an AMAZINGLY gifted photographer, then check out Dani Nicole at www.daninicolephotography.com
Until next time!
Shop the Post
[shopr collection="tjs-engagement-photos-pt-1″]