It has been 73 degrees this past week in NC, and let me just tell you guys, I have been in absolute heaven. Though we aren't officially in the Fall season yet, it certainly feels like it and I couldn't be more pleased. Fall has always been one of my favorite season! Mainly for the color scheme all of the foliage from the beautiful burnt orange and yellows colored foliage. I love to open my windows and feel a crisp fall breeze come through.
It's also one of my favorite season because of the food! I am salivating just thinking of all the sweat and salty treats, candy corn pumpkins, apple cider and more. Personally I think the fall (and winter) season is when you find the best food. Comfort food at it's finest! But comfort food comes in many forms, be it a fall themed snack mix, appetizer or hearty main course meal. I am here for literally ALL of it!
This past weekend Bella had her first sleepover of the fall, so to celebrate I made a fall themed snack mix for the girls to have. It is so dang good, I just had to share! This fall snack mix recipe requires no prep and is made so easily in under 15 minutes and the kids love it! Keep reading for my personal recipe, as well as a few other that are not my own, but hat I love non the less!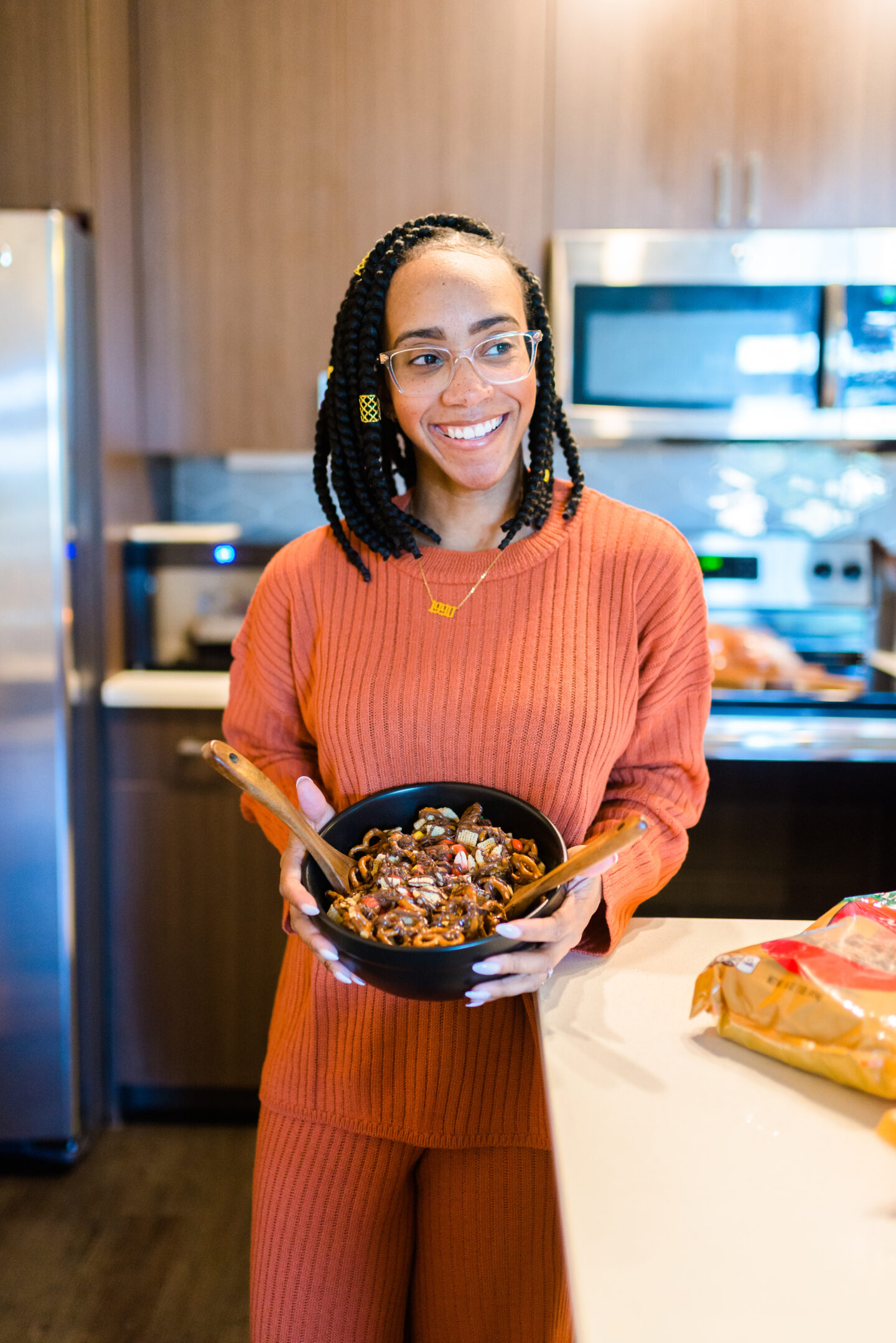 Fall Snack Mix Recipe
Ingredients
2 Cups of Chex Rice Cereal
2 Cups of Snyder's Mini Pretzles
2 Tbsp of Nutella (this drizzle will be sticky & messy. But if you'd prefer chocolate drizzle that hardens, see the end of the recipe for alternative ingredients/instructions)
1/3 Cup of Brach's Candy Corn
1/3 Cup of Halloween Cocoa Crip M&Ms
1/4 Cup of Ghirardelli Mini Semi-Sweet Chocolate Chips
1/3 Cup of Brach's Halloween Pumpkin Candy
Instructions:
Step 1:
Pour 2 Cups of Chex Cereal into a medium bowl
I chose my black Rae Dunn bowl, because it reminded me of Fall and halloween.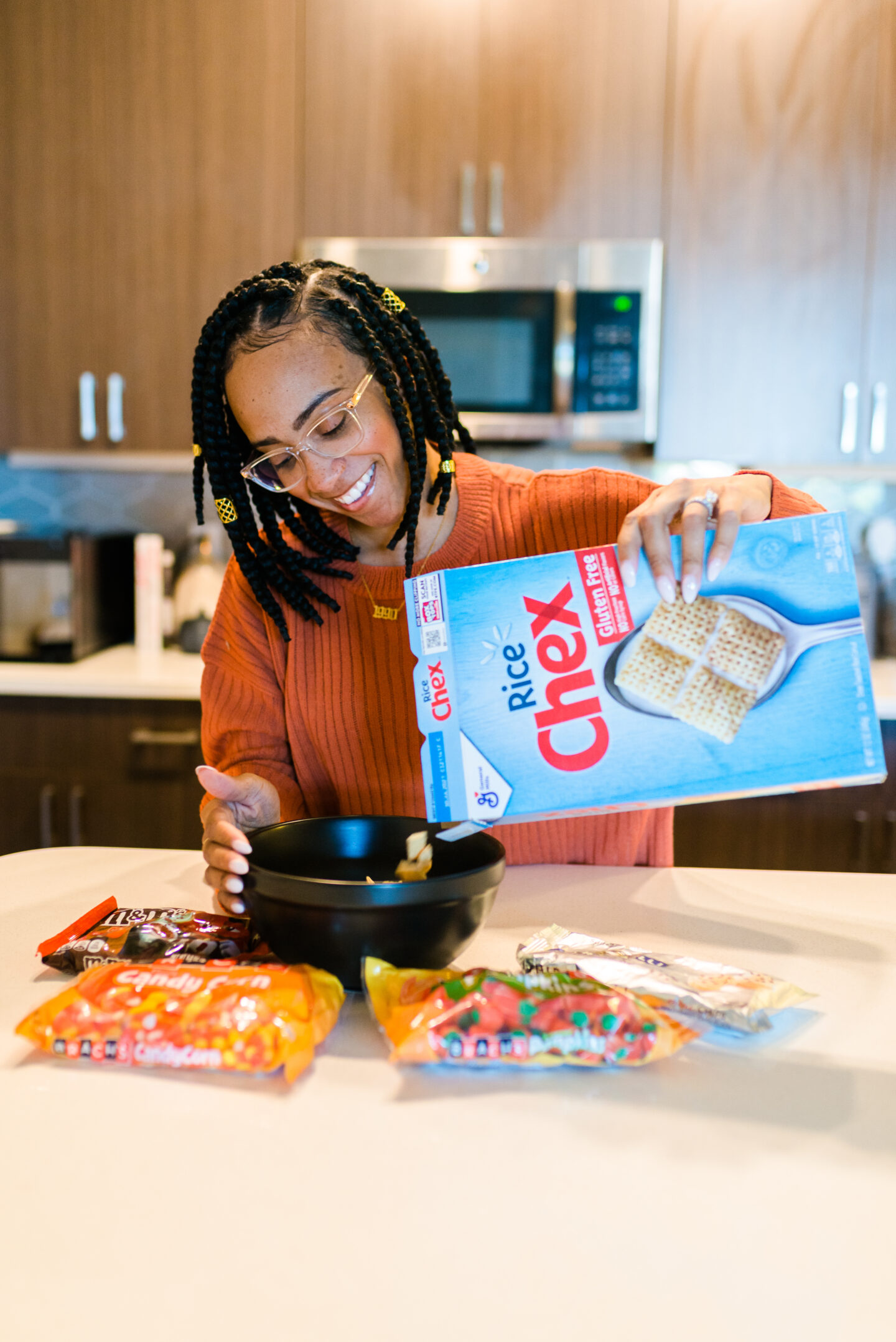 Step 2:
Pour 2 Cups of mini pretzels into that same bowl
The base of your snack mix will be the Rice Chex Mix & Mini Pretzels, as such you want to ensure you have enough of each. You will also notice I am not using a measuring cup. I've done this recipe so many times, so I no longer measure the ingredients.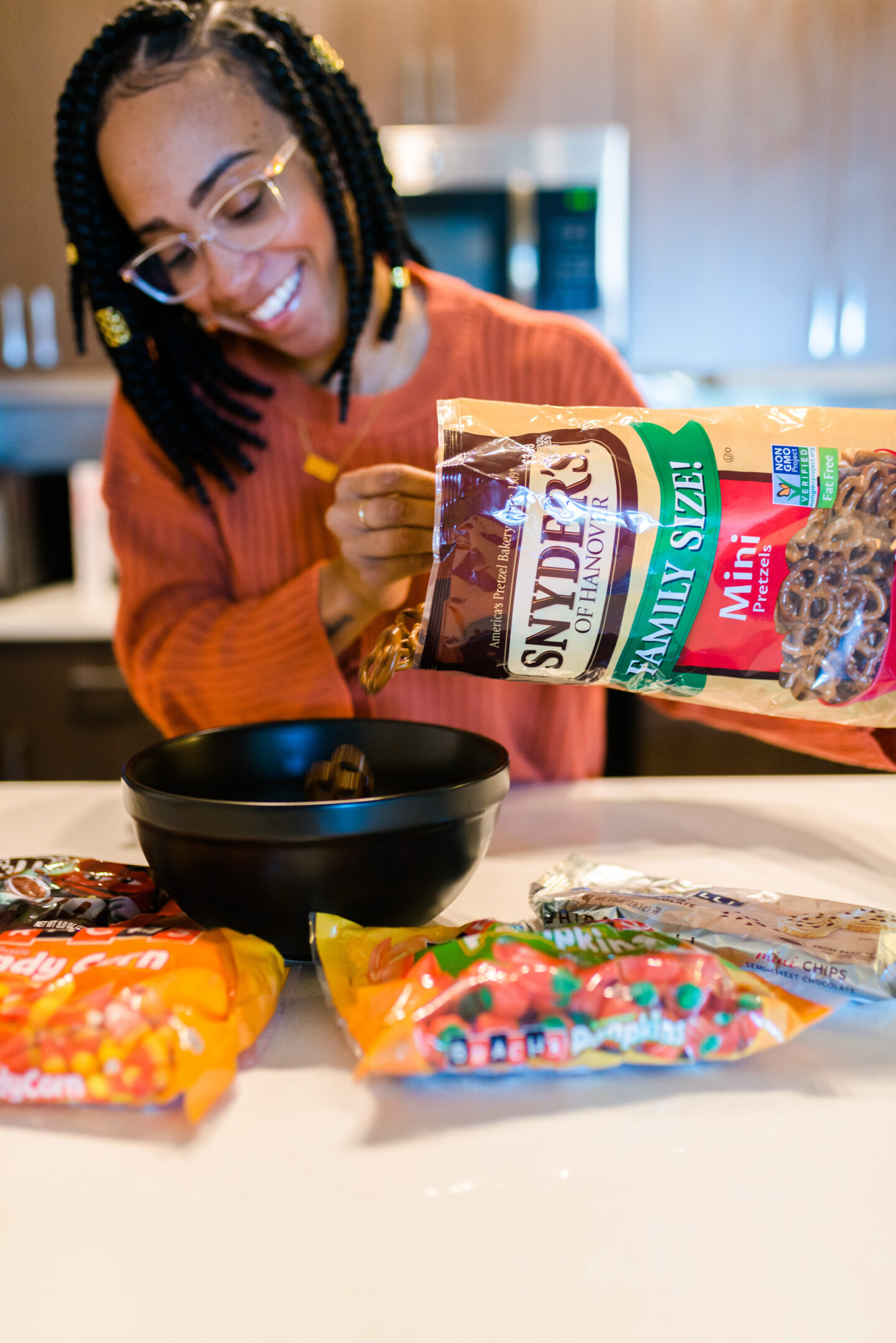 Step 3:
Pour 1/3 Cup of Candy Corn
I like to place the candy in a design, to take a picture prior to mixing everything, but it is not necessary.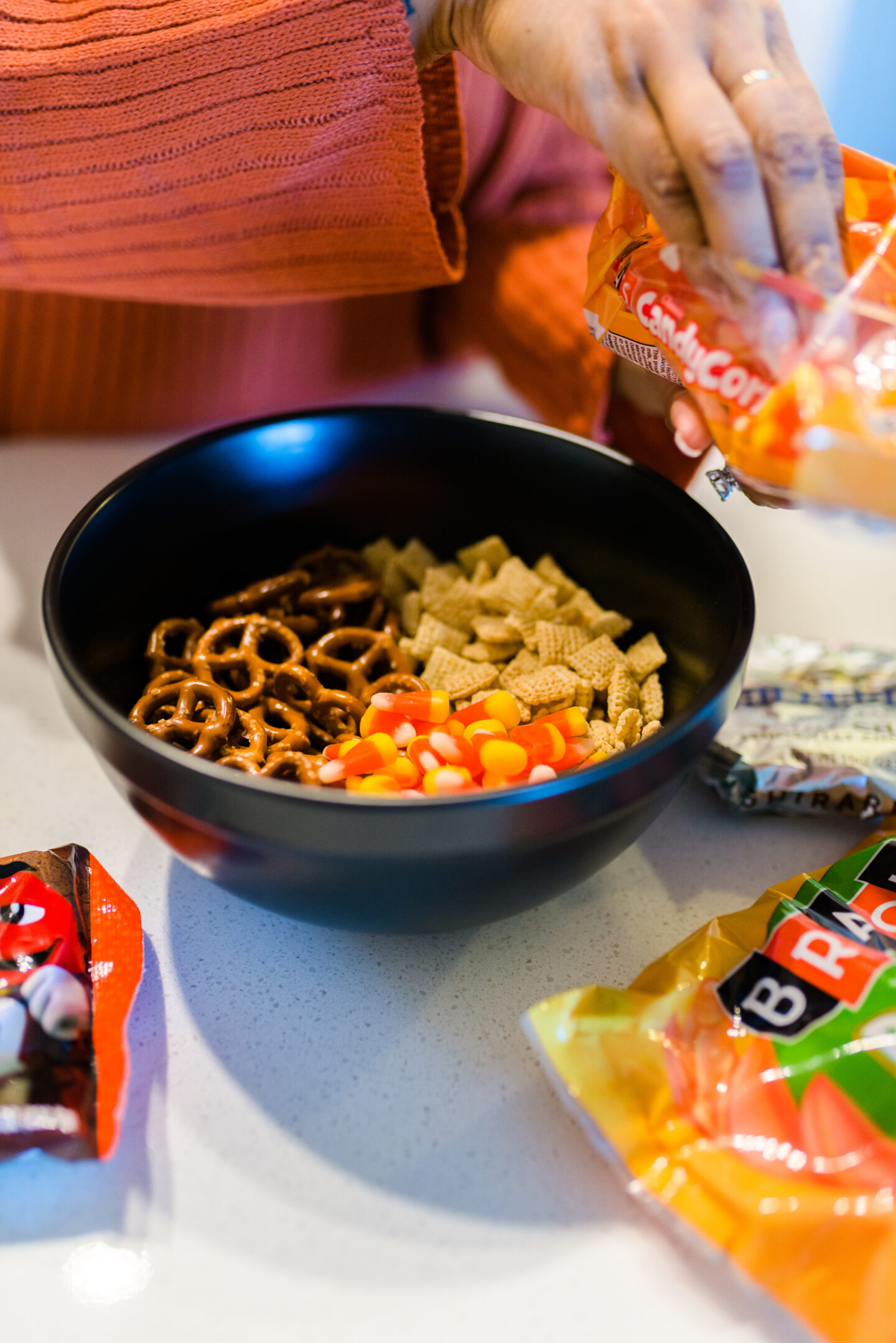 Step 4:
Pour 1/3 Cup of Candy Pumpkins

Step 5:
Pour 1/3 Cup of M&Ms into the bowl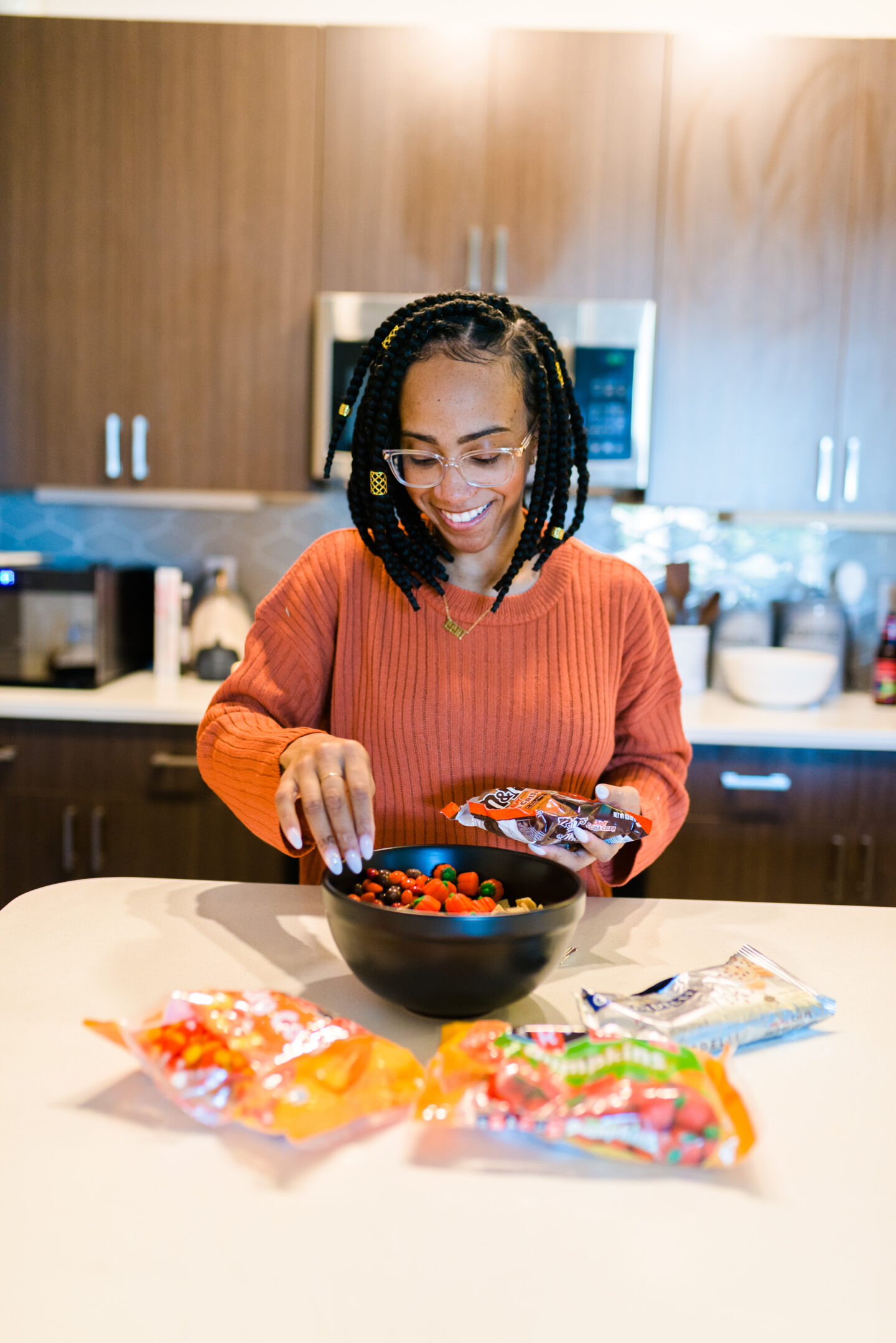 Step 6:
Pour 1/4 Cup of Chocolate Chips into the bowl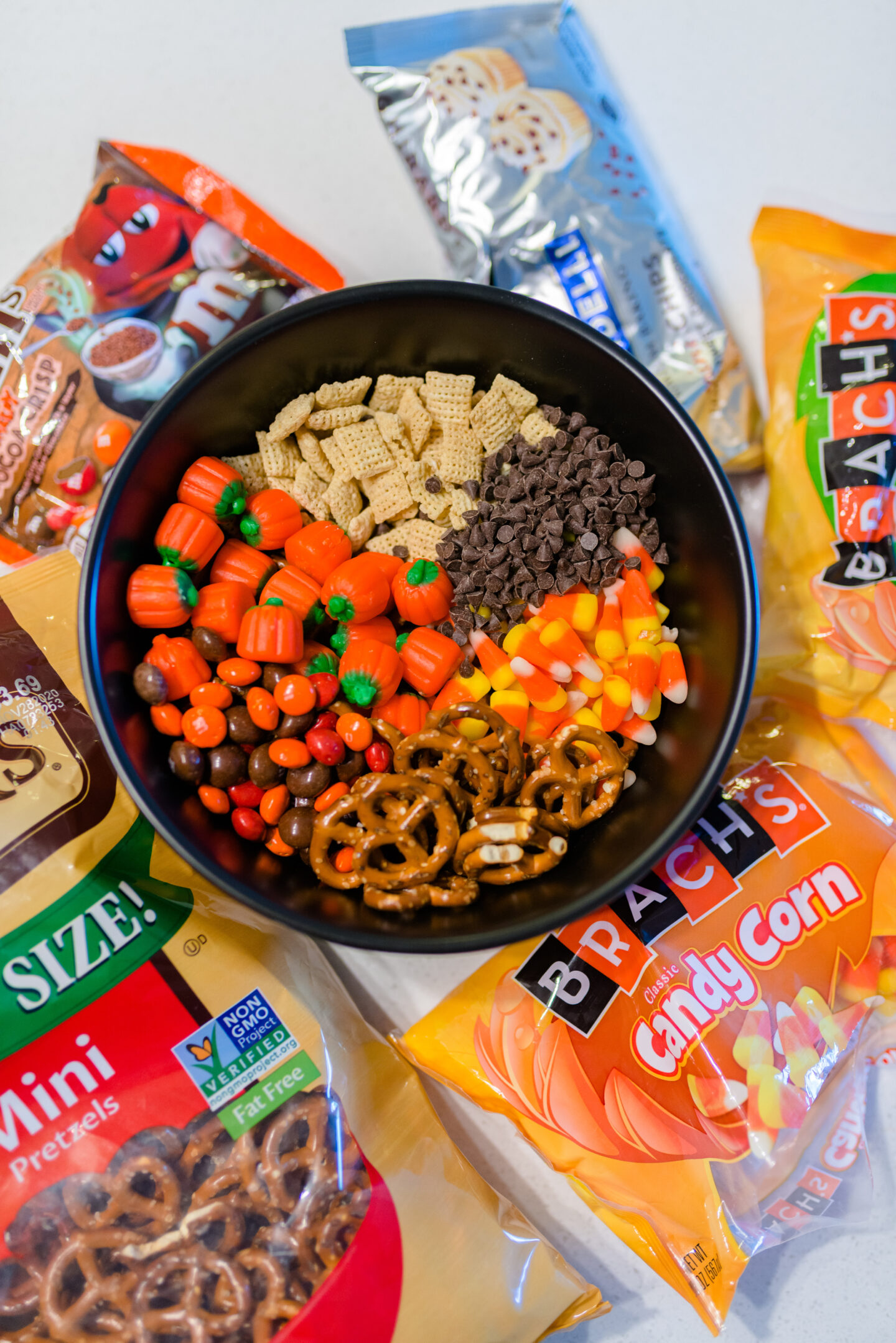 Step 7:
Mix your ingredients together and set aside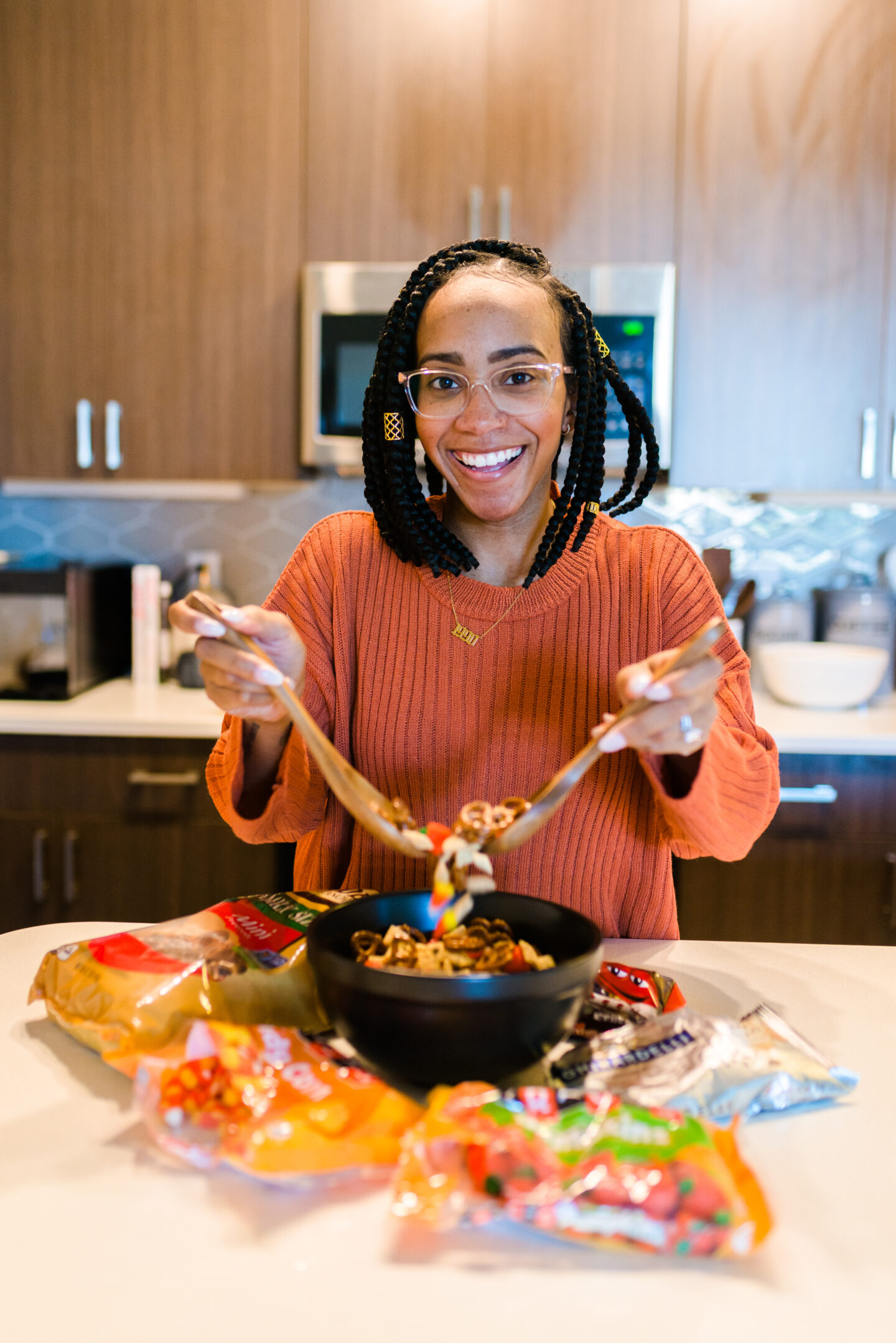 Step 8:
In a separate bowl, spoon in 2 Tablespoons of Nutella then microwave it for for 20-30 seconds.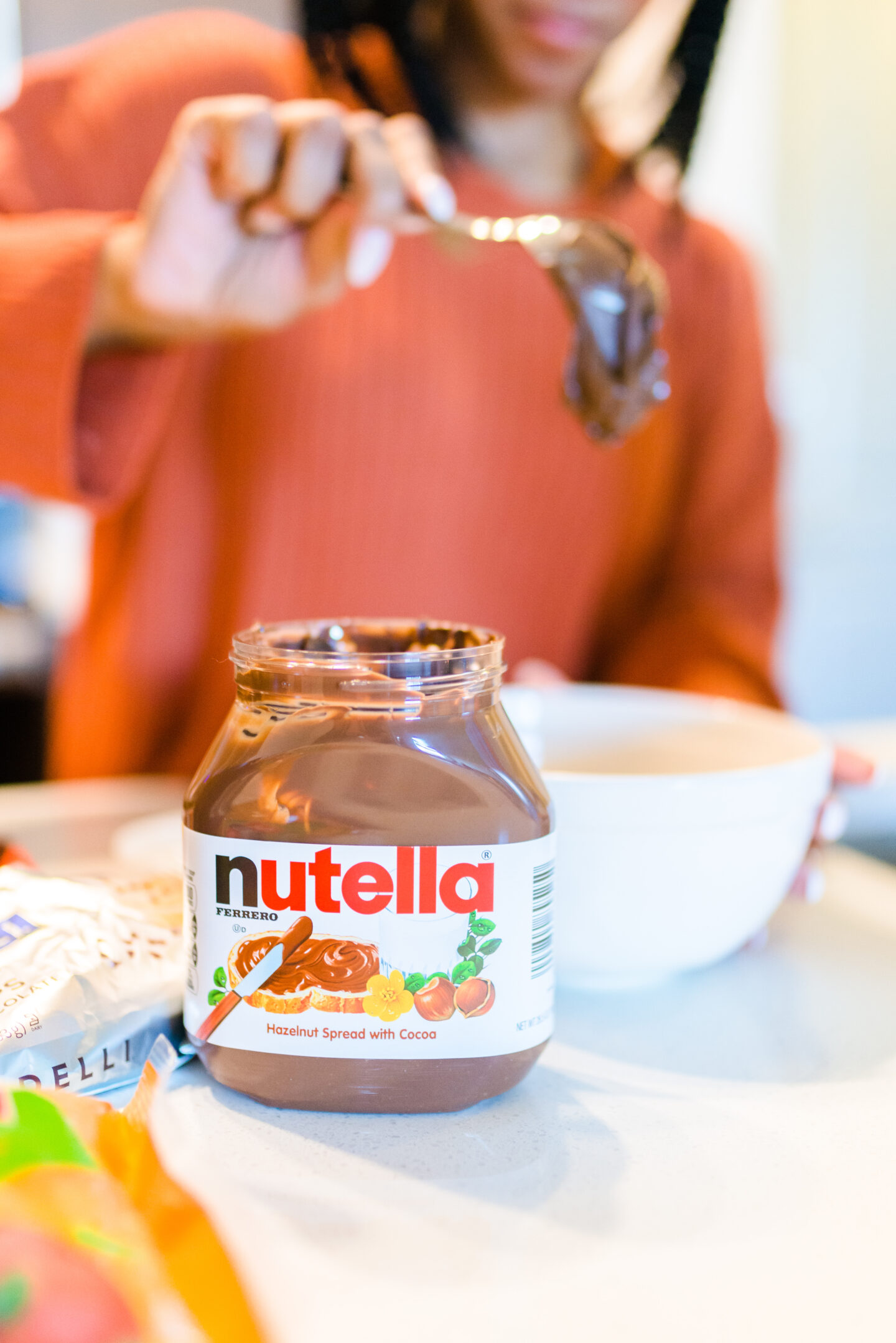 Step 9:
Put Nutella into a ziplock bag and cut the corner tip the ziplock. Then drizzle the Nutella over the snack mix.
Cutting the ziplock is a great trick to do, when you don't have any pipping bags! The higher up you cut the corner, the thicker your drizzle will be. As a result, for this recipe I made the cut very tiny, to make you make the ziplock into a makeshift one.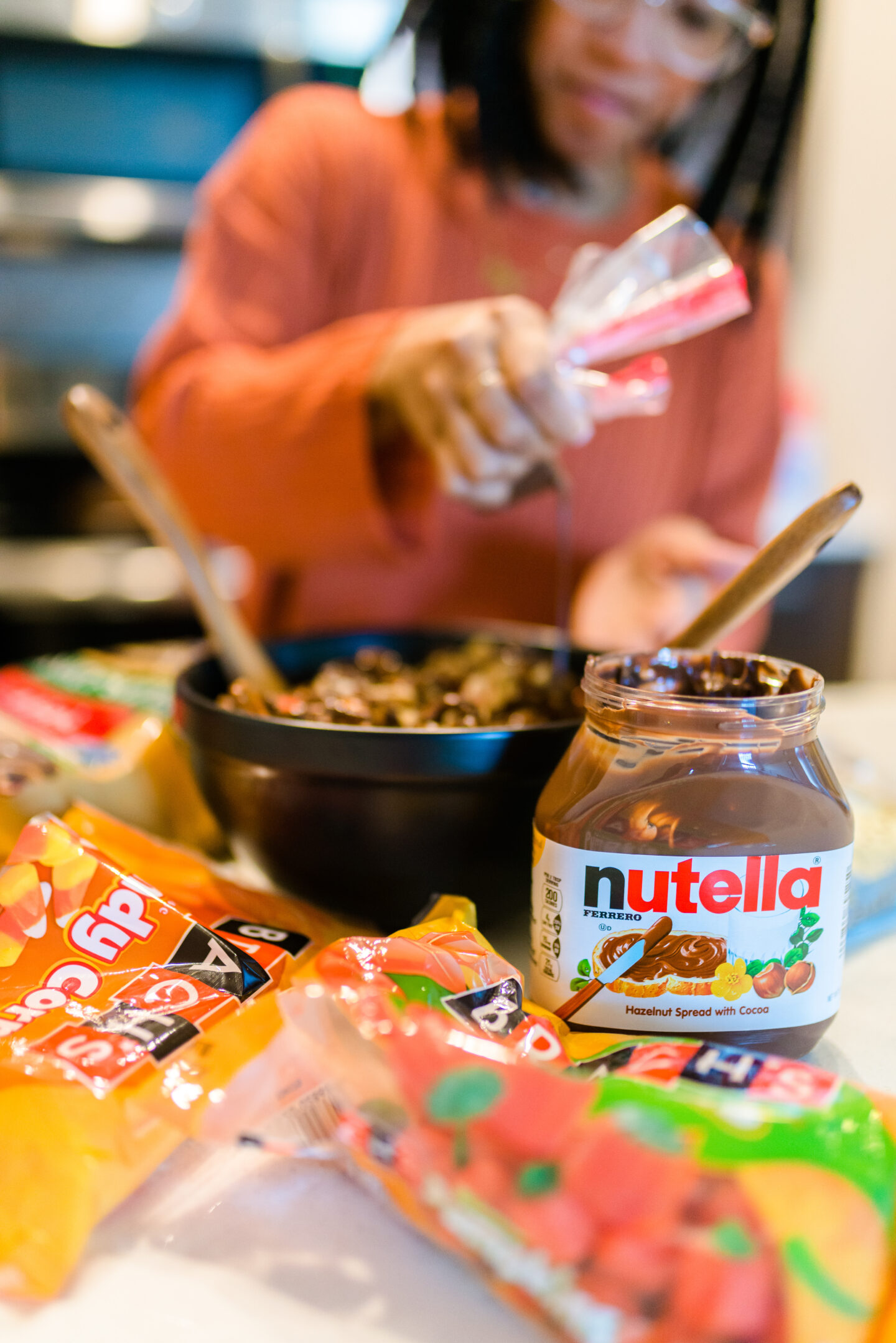 That's it, you're done – end result is a delicious sweet and salty fun fall snack mix recipe! I might've snuck a taste before I told my family it as ready…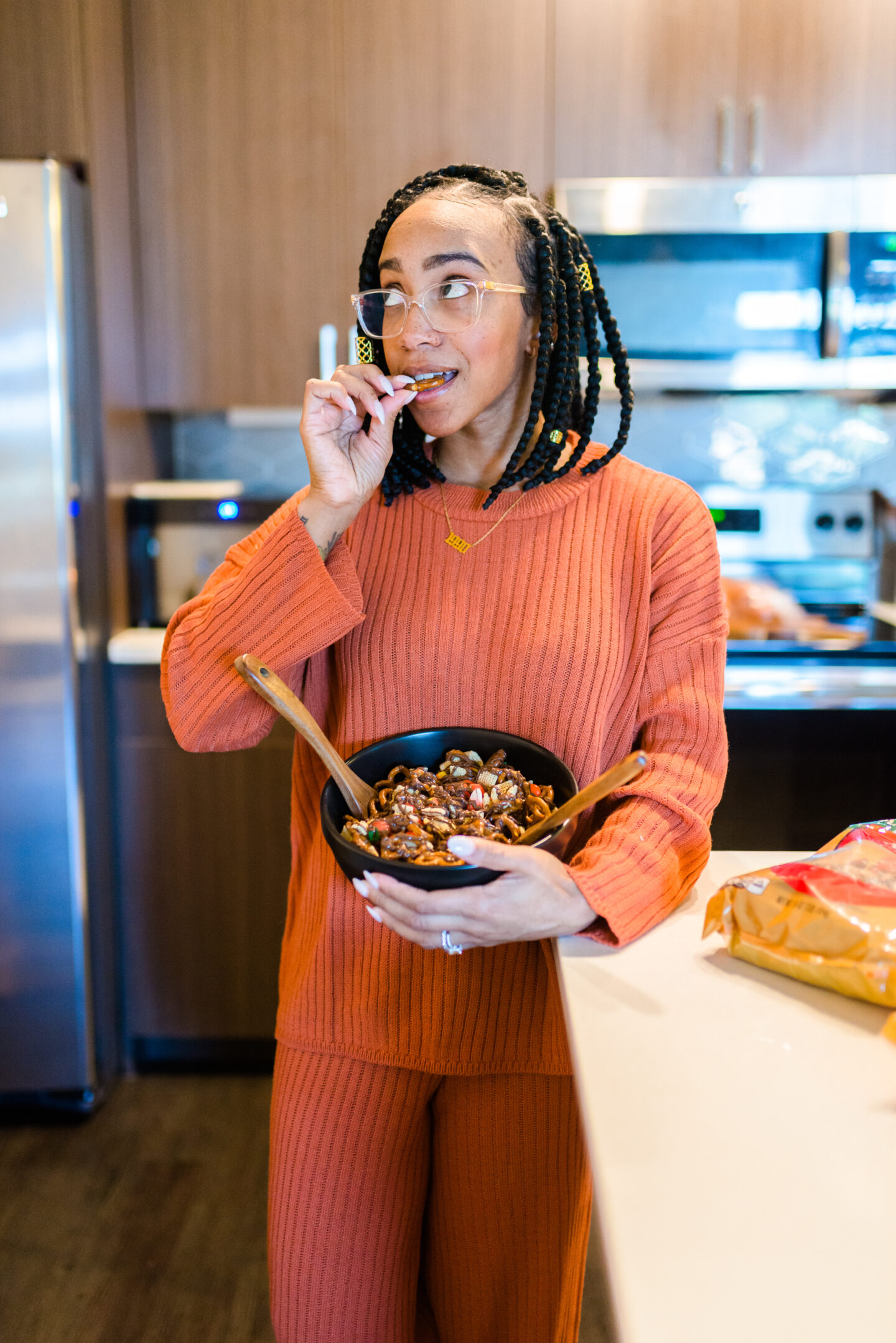 This snack also saves me a ton of time and it's a real crowd-pleaser. You can easily make this as a to-go snack, I would say minus the Nutella if so, as it can get a little messy. My family prefers the chocolate to be gooey, but if you prefer something that causes a little less mess, I have a trick for you! Instead of drizzling Nutella, you can make chocolate drizzle that will harden once it cools. Simply follow the instructions in the recipe noted here by Food.com for the best results!
As I mentioned before, though isn't officially Fall yet (September 22nd is the official first day of fall) it is quite literally right around the corner. And that means, Thanksgiving is right around the corner, as well! I enjoy cooking for my family, but they can be an impatient bunch. Because that is the case, I try to keep snacks on hand. Because it'll be the holidays before I know it, I am sharing some more fall snack mix recipes, I hope you'll love!
Other Thanksgiving Snack Mix Recipes
Jessica, creator and brains behind the Novice Chef Brand, is literally one of my favorite self taught cooks. I have tried so many of her recipes and they have NEVER failed me! This deliciously fun, fall Chex mix is coated in cinnamon sugar, which is music to my ears. The recipe also calls for tossing it in a butter mixture consisting of brown sugar, cinnamon and vanilla extract; 3 of my favorite ingredients in desserts! Though this mix recipe goes in the over for an hour, it is not a set it and forget it snack mix. You have to stir the snack mix every 15 mins for the full hour it is in the oven. But the crunchier the better! My favorite part of this recipe? Once done and cooled, you add caramel pieces to the mixture and toss. You can try out this recipe click here.
Umm hello Fall, I'm ready for you and this snack! I am a HUGE fan of caramel popcorn the flavors of butter and caramel; always creates a party in my mouth! Personally I think, the caramel corn is the star of this snack mix. Having lived in NC now for 5 years, I still don't feel completely "at home." Being born and raised in Connecticut, I miss experiencing all 4 seasons haha. But really there wasn't one year that I missed the Big E, the 6th largest fair in the nation. There you get everything from baked potatoes to fresh apple cider and donuts. But my favorite thing to eat whenever I went was the fresh caramel popcorn. I think I will be making this snack mix next. You can try out this recipe click here.
I am a huge fan of of salty and sweet snack, incase you didn't guess, so my love for this snack is a no brainer. This is really a mix and toss recipe and as a working mom and wife, I always appreciate these. It includes: salted peanuts, Reese's pieces and peanut butter filled pretzels. This is an ideal snack mix for those family memebers and friends who are huge fans of peanut butter. You can try out this recipe click here.
I'd love to know if you end up trying my recipe or any of the other ones I've listed. Let me know in the comments section!
As always, you can shop my look below or by going to my Shop My Look page by clicking here.
Thank you for being here!
Until next time,