This post is sponsored by Nordstrom and ShopStyle – however all thoughts, views and opinions are my own and brought to you in the truest form.
If you've been following me on my Instagram and watching my stories, then you know I have been in a bit of a funk as of late. So to get me out of it, Jesse suggested a little retail therapy…and Thai food. Oh how well he knows me! I wouldn't dream of saying no! 😉 I immediately suggested we swing by our local Nordstrom's to see what new pieces were in. He suggested we shop on a budget, so I set a budget of $100 max per piece. Of course, Mr. Moon didn't believe I could find items I loved for under $100. Unbelievable right? 😉 Needless to say once done I was smiling like a Cheshire Cat. Nordstrom did NOT disappoint! There were so many pieces from jewelry, shoes, pants and more; that were regularly prices and well under a $100.
Shopping at Nordstrom for Under $100
I've spoken to quite a few people who heard the store name Nordstrom and immediately become intimidated. The assumption that I've found is that, they won't be able to find pieces within their price range. I am here to lay that fear to rest! You can absolutely shop at Nordstrom, look and feel like a million bucks and not break bank! I've been shopping at Nordstroms since I was in middle school. Of course during those days it was my parents paying for my outfits, so the price wasn't really a care of mine. Now a days (adulting days) price is very important to me as are rewards. And Nordstrom's consistently checks those boxes for me!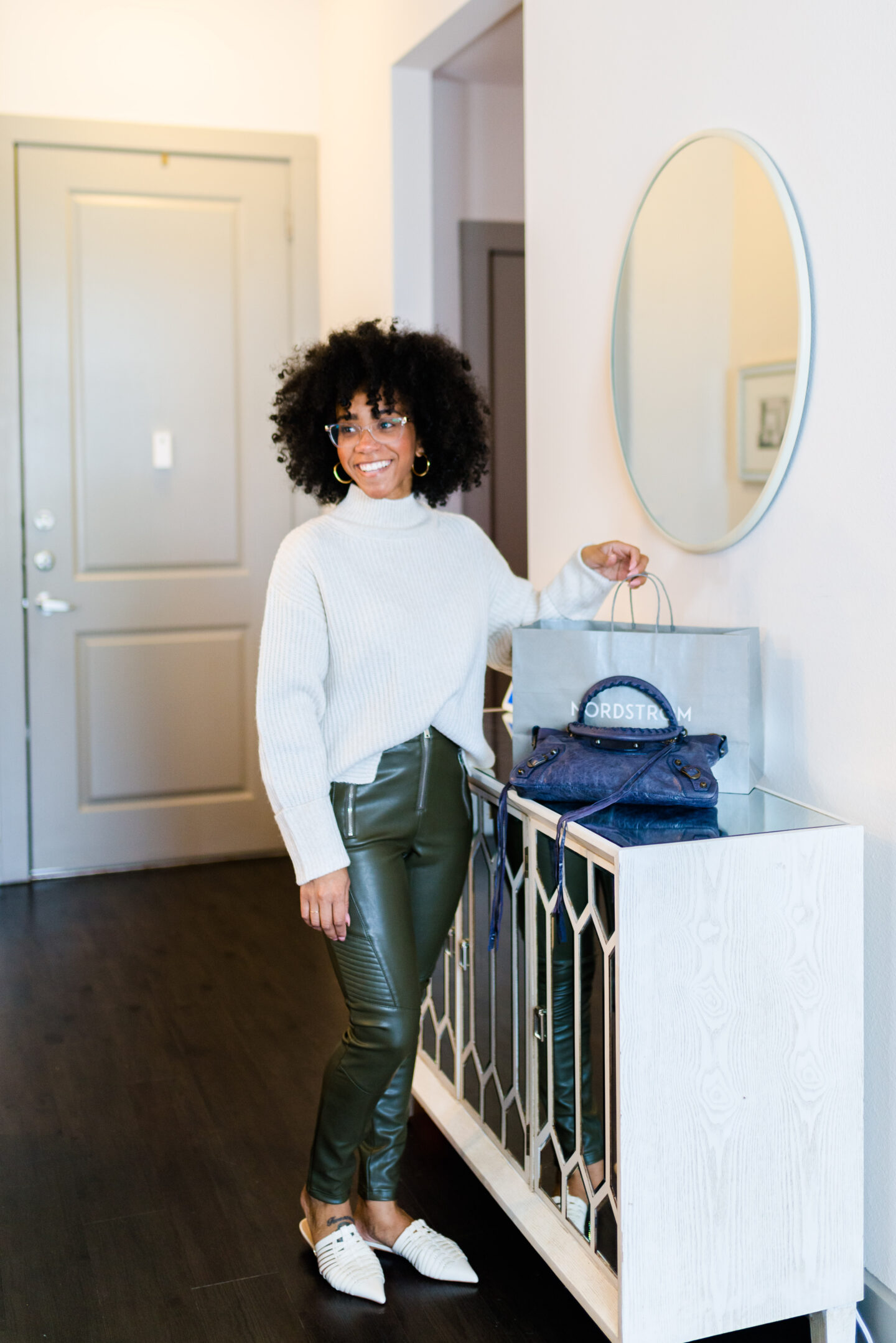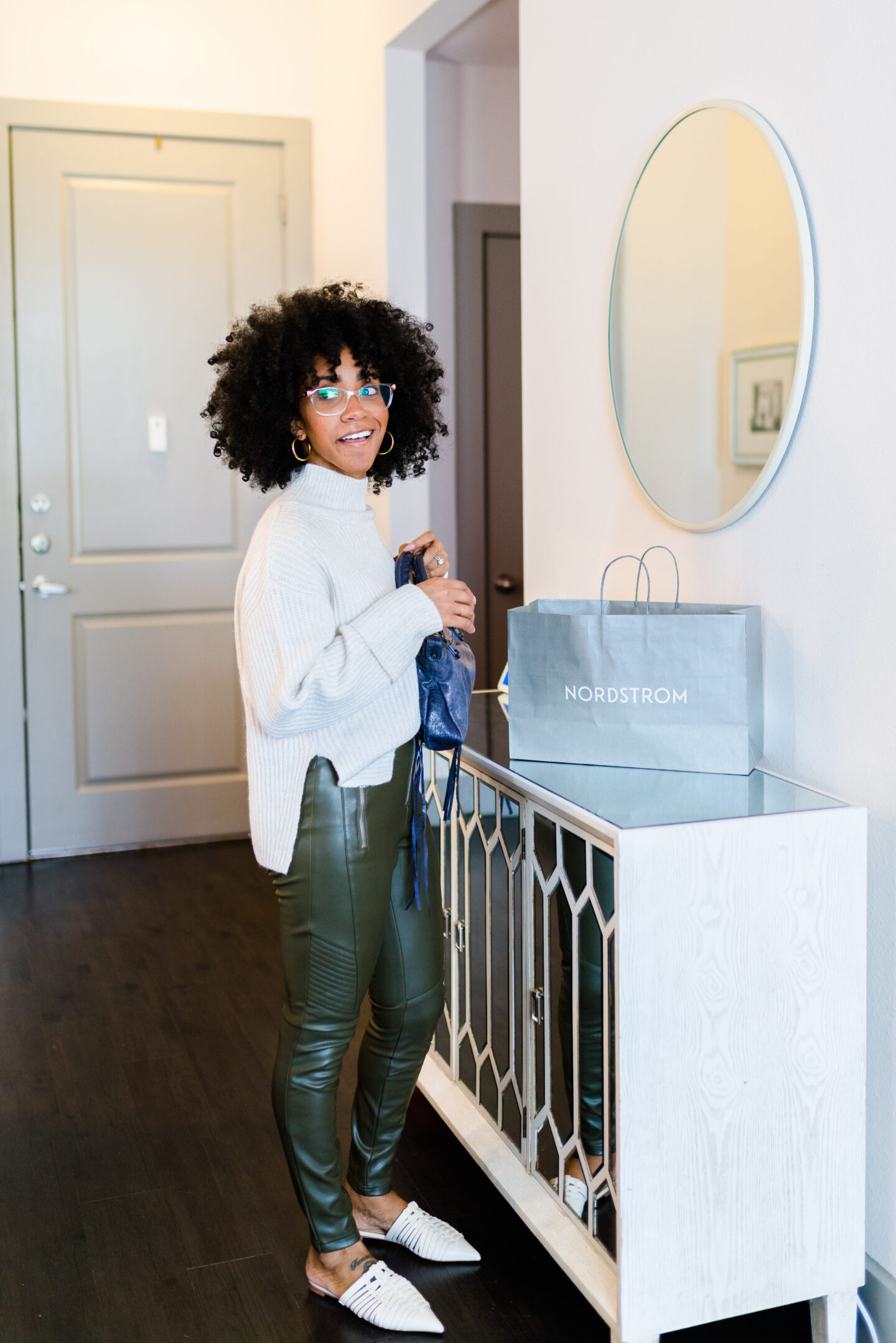 Sweater: Topshop| Faux Leather Pants: Topshop | Hoops: Madewell | Bracelets: David Yurman | Shoes: Sam Edelman (Old), Linking Similar Here | Purse: Givenchy (Old), Linking Similar Here
Benefits of Shopping at Nordstrom's
Aside from their spectacular customer service; Nordstrom also has: free shipping and returns, curbside pick-up and the option of BOPUS (buy online, pick up in store). These options alone are enough for me. I cannot tell you how many times, I've needed a last minute item for Bella or myself and we've utilized curbside pick-up.
Another great feature is Free virtual styling!
You are able to meet (virtually) with a stylist for up to 30 mins. The stylist can put together an entire outfit or simply suggest pieces for you. I have a personal Sales Associate at my local Nordstrom, and I love that I can communicate with her via Nordstrom. She's even assisted my husband in finding the perfect present from time to time, such as my pink Valentino wallet/purse. But she also assist me when I say, "hey I am looking for a dress at a price point of "$50". It's that type of personalized help that keeps me returning.
I like to have options, it's important to me. So I really appreciate that I can always find pieces that are well within my price point, be it hight or low. Another benefit of shopping at Nordstrom, is being able to be apart of the Nordy Club. As a member, I am able to gain rewards + points when shopping that turn into Nordstrom Notes! Depending upon your "status" you're allotted a amount of Personal Double Points Days, annually. At your discretion you can use and/or schedule these days. When you using a Double Point Day, you gain double the points on your Nordstrom purchases for a full 24 hours.
Personally, I save my point days until I know I am going to make large purchase (i.e., a handbag).
In more recent years, I've designated my notes days when shopping at Nordstrom's during the Anniversary Sale or Holiday shopping. That is when I typically spend the most in one day, hence gaining the most points. And with my and Jesse's budget being pretty strict this year, we are trying not to use our credit cards as much. It feels SO good to know that I can shop using my debit card, and STILL gain points.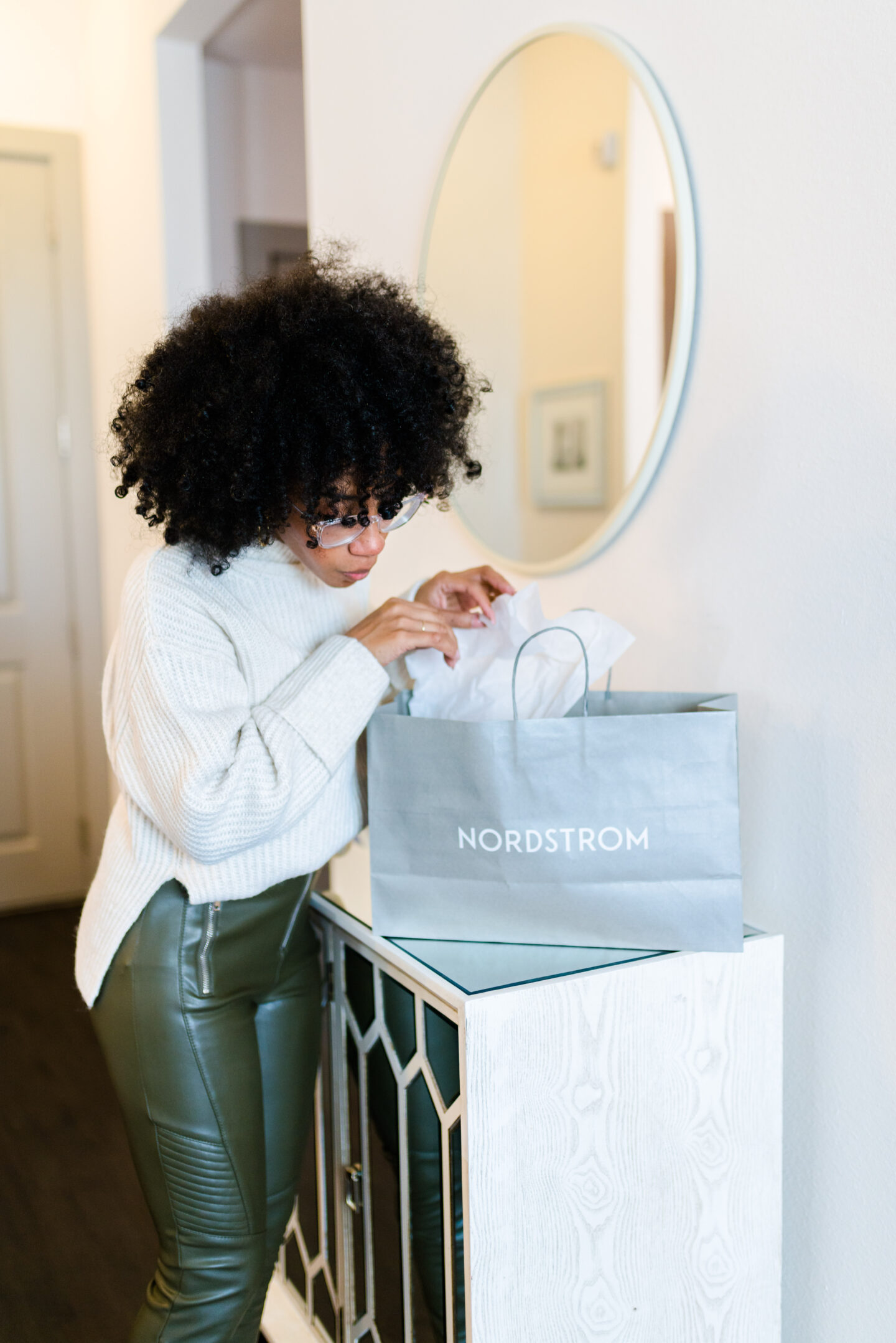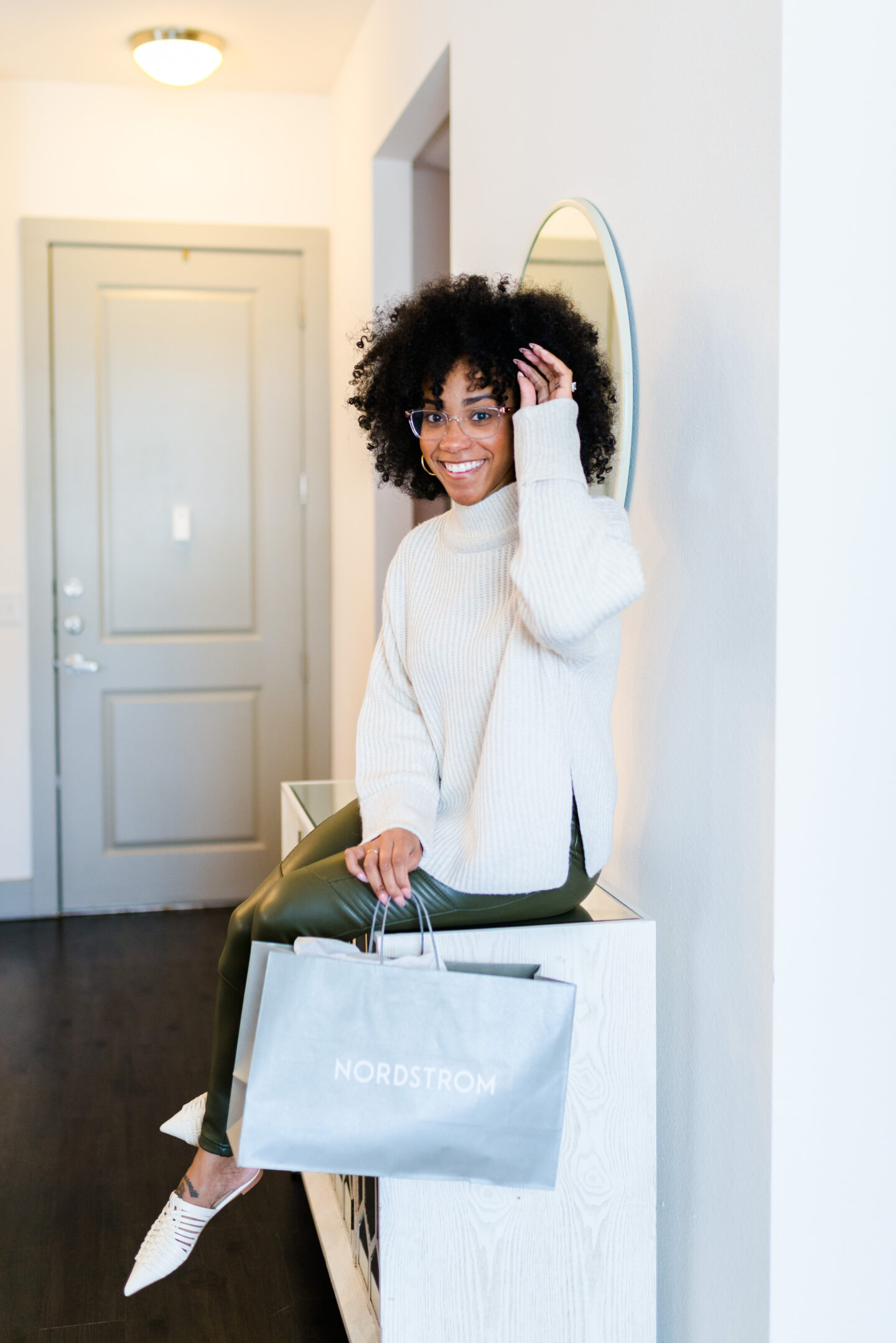 Shopping Online & In-Store
As a rule of thumb, a large portion of my wardrobe consist of neutral colors. I try to have at least 5-7 neutral pieces, per season. This way I can pair my staple pieces with more fun/colorful pieces, I may pick up along the way. So I was able to venture out and be a little edgier with my pant style/color. I've been on the hunt for faux leather pangs for quite some time! I didn't want a just a black pair like everyone else. I wanted some detailing to them and a pop of color.
They also allow for just enough room around my waist, (for reference I am wearing a size 4). They also fulfill all of my desires and are under my $100 threshold – actual price point is $75.00, although some of the other colors are on sale.
To find these pants, I immediately went to the Topshop department of my local Nordstrom. I chose this department because the items typically run between $20-$200; and yes that is a large bracket – however it allows anyone with any budget find items. This is a strategy I also practice when shopping Nordstrom online, I will use the top navigational bar to find items within Topshop and then filter by price. More than not, I find I have more luck when shopping online with Nordstrom as the in-stock inventory can differ between stores (the West Hartford, CT store vs the Raleigh, NC store).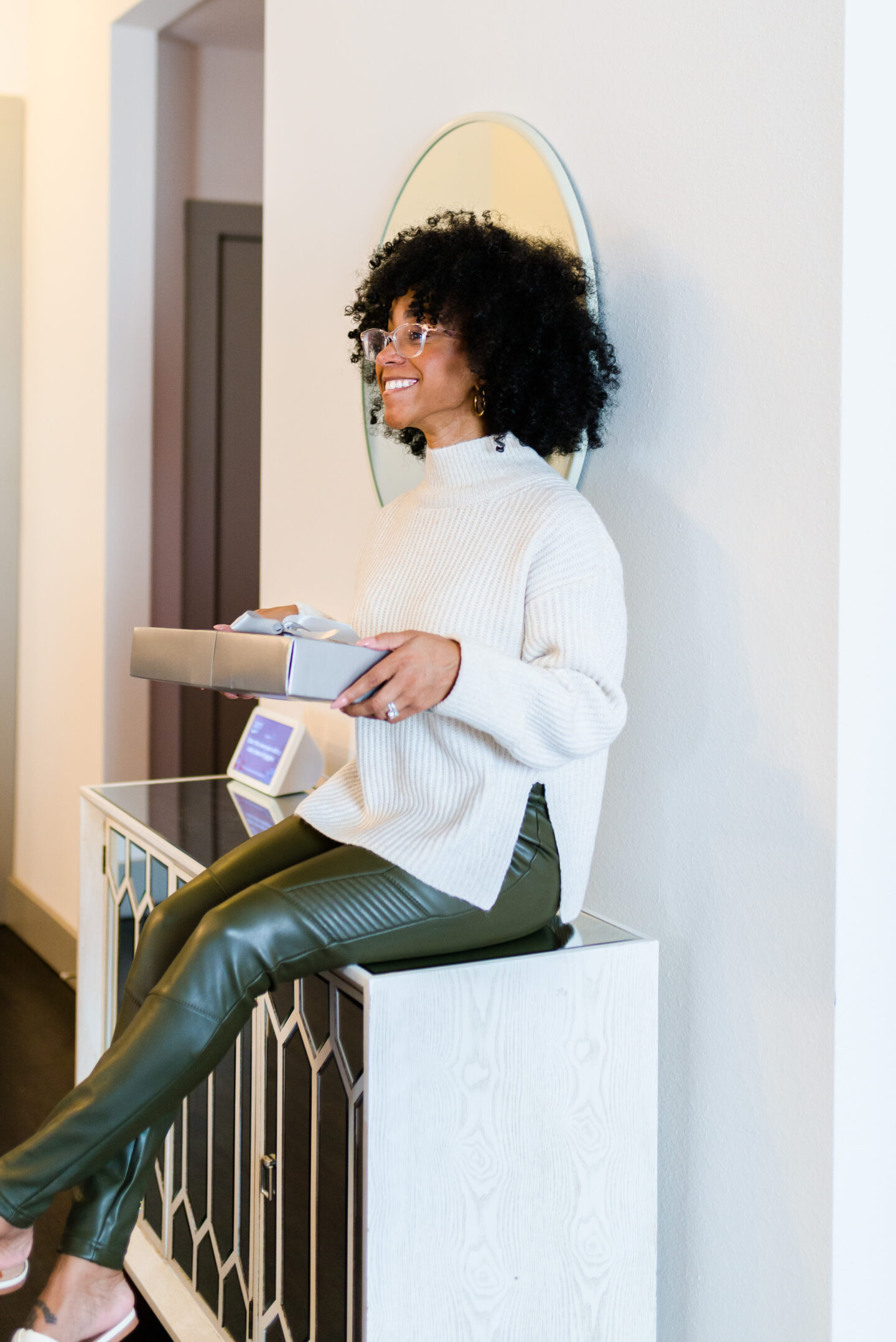 Sweater: Topshop| Faux Leather Pants: Topshop | Hoops: Madewell | Bracelets: David Yurman | Shoes: Sam Edelman (Old), Linking Similar Here | Purse: Givenchy (Old), Linking Similar Here
Since these pants are such a beautiful rich green color, I didn't want to pair anything loud with them. Instead I wanted to stay within the neutral family and accent the pants with a nice cream and/or oatmeal colored sweater and a grey or taupe purse. I didn't find an anything that caught my eye in-store, so I of course, went on the Nordstrom website and searched cream sweaters within the Topshop department, at a price point of $25-$100. When I spotted this sweater online, purchasing it was a MUST! This Topshop Mock Neck Crop Sweater fits TTS (for reference I am wearing a size XS). Its literally as soft as it looks. Most importantly it's under $100 – actual price point is $68.00.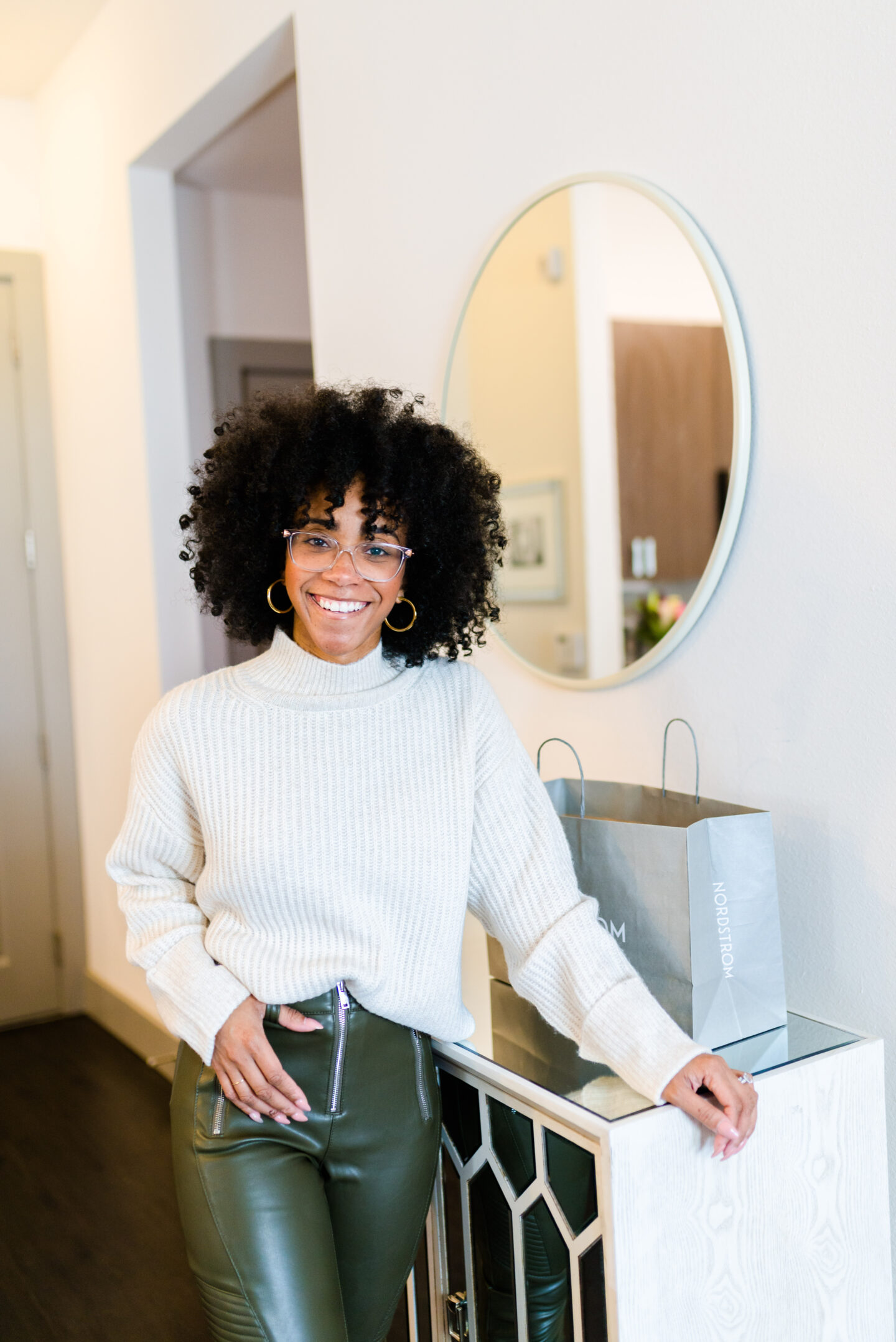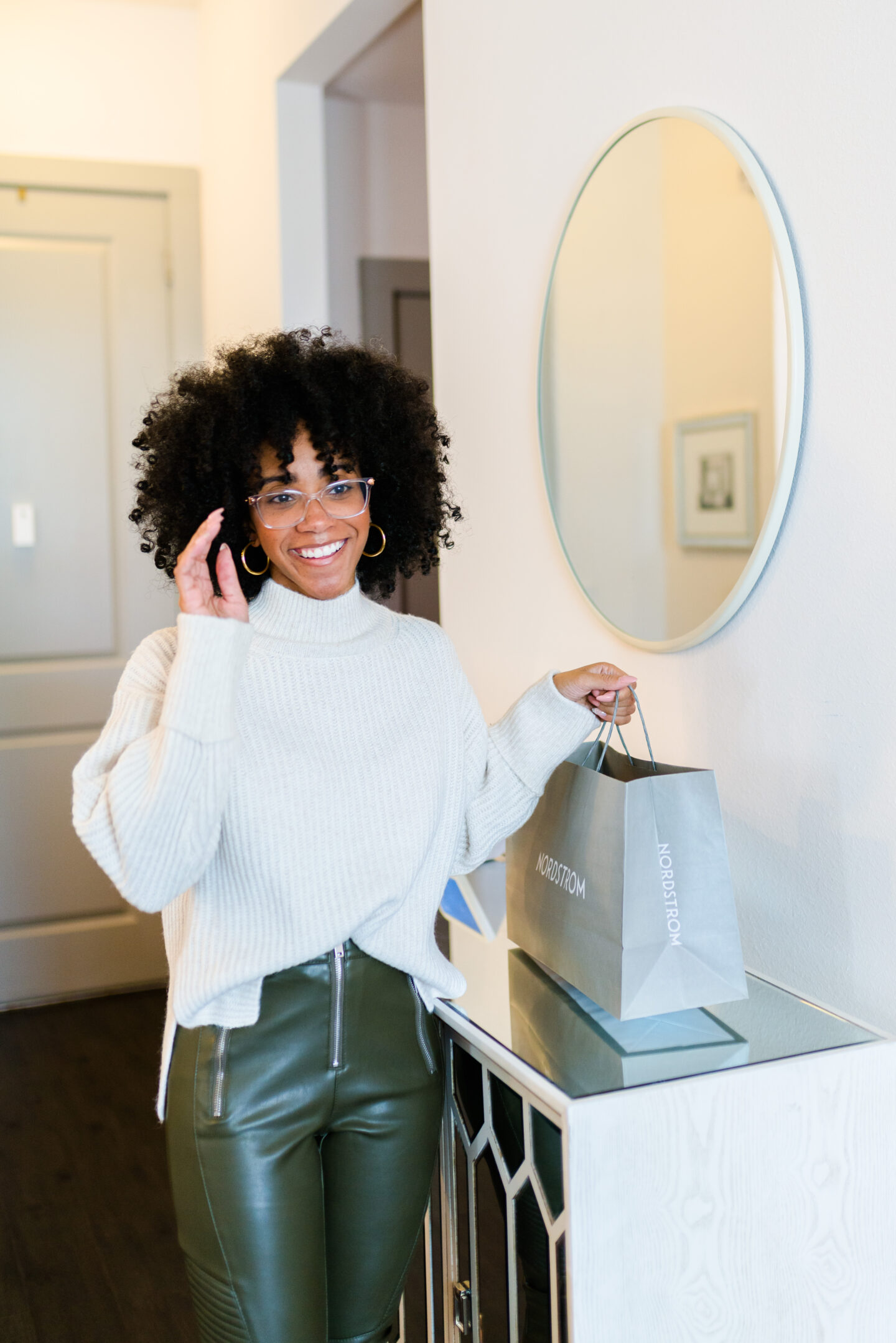 Accessorizing My Look
No outfit is complete without accessories, am I right?! To accessorize this outfit I kept it very understated and simple. I love my hair and hoops to be big! To me there is just something about large hoops with a curly afro – it's so edgy chic! Personally I don't think one can ever have enough hoops! And thankfully Nordstrom always has a ton of hoop earrings, in various shapes to choose from.
For this partial look though, seeing as the hardware on my pants was silver, I wanted to add some warmth with gold and mix metals. I opted for these Madewell Chunky Large Gold Hoop Earrings. These beauties were a cool $25! I know ya'll are excited as I am about that! To find them, I searched Chucky Hoop Earrings on Nordstrom's site and a plethora of choices were given to me to choose from! This look can be worn during the day or night. To switch it up for a night out, add a chunky heel like these Steve Madden ones and statement earring like these Lotus Imitation Pearl Earrings.
Well that's all for this round-up! I hope to do this again in the near future. If you're like me and balling on a budget, Nordstrom is your go to! Check out their website and make sure you sign up for the Nordy Club! I promise – you will not be disappointed. Should you find some great items at Nordstrom, please tag me on instagram (@tiffanyturnermoon). I cannot wait to see what looks you create and what gems you find!
Shop This Look Below