Wow, seriously all I can say is wow! A LOT has happened since my last post in September of 2019! There are crazy times right now, for everyone. I pray you are all safe and healthy. I know the Corona Virus impacting everyone and this is hard, but we will get through this. #AloneTogether
It feels really good to be writing this post and interacting with my NBOTS familia again, I have missed you all so much! I PROMISE a post with ALL the juicy details is coming soon. Make that a couple post! 😉 But for right now, lets dig into this weeks Splurge vs Steal post!
Splurge vs Steal: Beauty Edition
Every Tuesday I am bringing YOU a series of items, some will be for a steal and others will be a bit of a splurge. By doing this, I hope to give you all options to choose from. Therefore enabling you to possibly purchase what you want, without guilt or breaking bank!
This week I focused on beauty items and they are all courtesy of Nordstrom. Nordstrom is currently having their Spring Sale, can you tell I'm excited?! Nordstrom is typically my go department store, but I will share items from a plethora of places in the coming weeks!
Please Note: These items will be linked within the LIKETOKNOW.IT App. Simply search: NORTHERNBOFTHES to find me. I've can also view everything I linked by clicking here, where you will be directed to my "Shop My Instagram" page.
Without further ado, below are this weeks picks! Enjoy!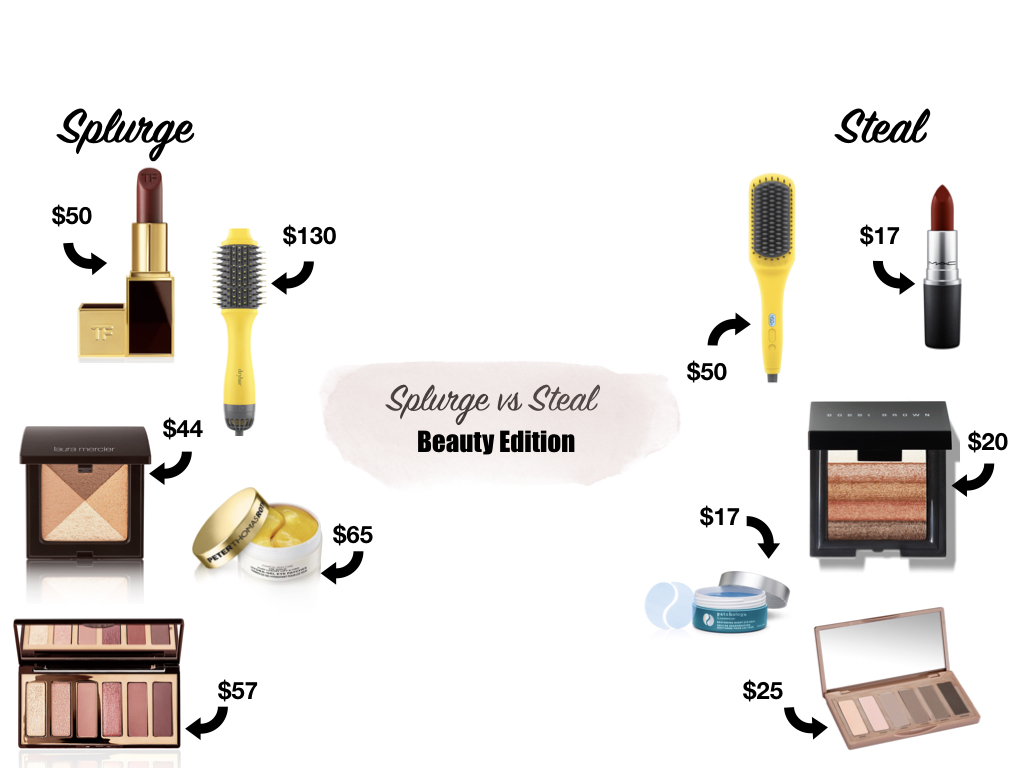 Splurge Worthy…
Tom Ford, Creamy Lipstick, Color: Impassioned – $50
DryBar, Double Shot Blow Dryer Brush – $150
Laura Mercier, Moasic Shimmer Block – $44
Peter Thomas Roth, 24K Gold Lift & Firm Hydra Gel Eye Patches – $65
Charlotte Tilbury, Darling Easy Eye Palette – $57.00
Balling on a budget…
M.A.C, Matte Lipstick, Color: Double Fudge – $17
DryBar, Baby Brush Mini Dryer Brush – $50
Bobbi Brown, Shimmer Brick – $20
Patchology, FlashPatch Restoring Eye Gels – $17
Urban Decay, Naked2 Basics Eyeshadow Palette – $25
Want to see different items? Let me know by dropping a comment below or send me a DM on Instagram. Happy shopping boos and baes!
Until next time!