This post is sponsored by Neutrogena, but all opinions are my own.
I've turned a new leaf, ya'll! I'm trying to get healthier on the inside of course but much more healthier on the outside…and that means the big s…"SKINCARE." 🙈 I KNOW! That word literally use to intimidate me SO much. I would become quickly overwhelmed and say forget it, when I tried to come up with a skincare routine. But I've decided not anymore. This year, self care WILL be a priority.
Why it's Important to Wear Sunscreen
My commitment to be healthier comes a commitment to wear less makeup and let me skin breathe. But I STILL need SPF protection and something to help lock-in moisture. What would you say if I told you I could get ALL of this in one cream? A sunscreen?
This sunscreen is not only great because of the SPF 55 protection levels, but it's specifically FOR people with acne-prone skin! One of my BIGGEST reservations about sunscreen is the greasy residue it tends to leave on your skin, and I'm happy to say that this one won't clog your pores – AND it's oil-free! Can I get a 'Hallelujah'?!
Aside from that, my favorite part, is
Neutrogena
®
Clear Face
gives my face a matte finish! Sometimes I will also put on a bit of lip gloss and I am good to go.
With the summertime heat giving me a natural glow, and
Clear F
ace giving me the protection I need…I feel like I am one step closer to reaching my goal of healthier skin.
Now that I've told you all the reasons why I am really liking the product, let's chat quickly about WHY it's important to wear sunscreen.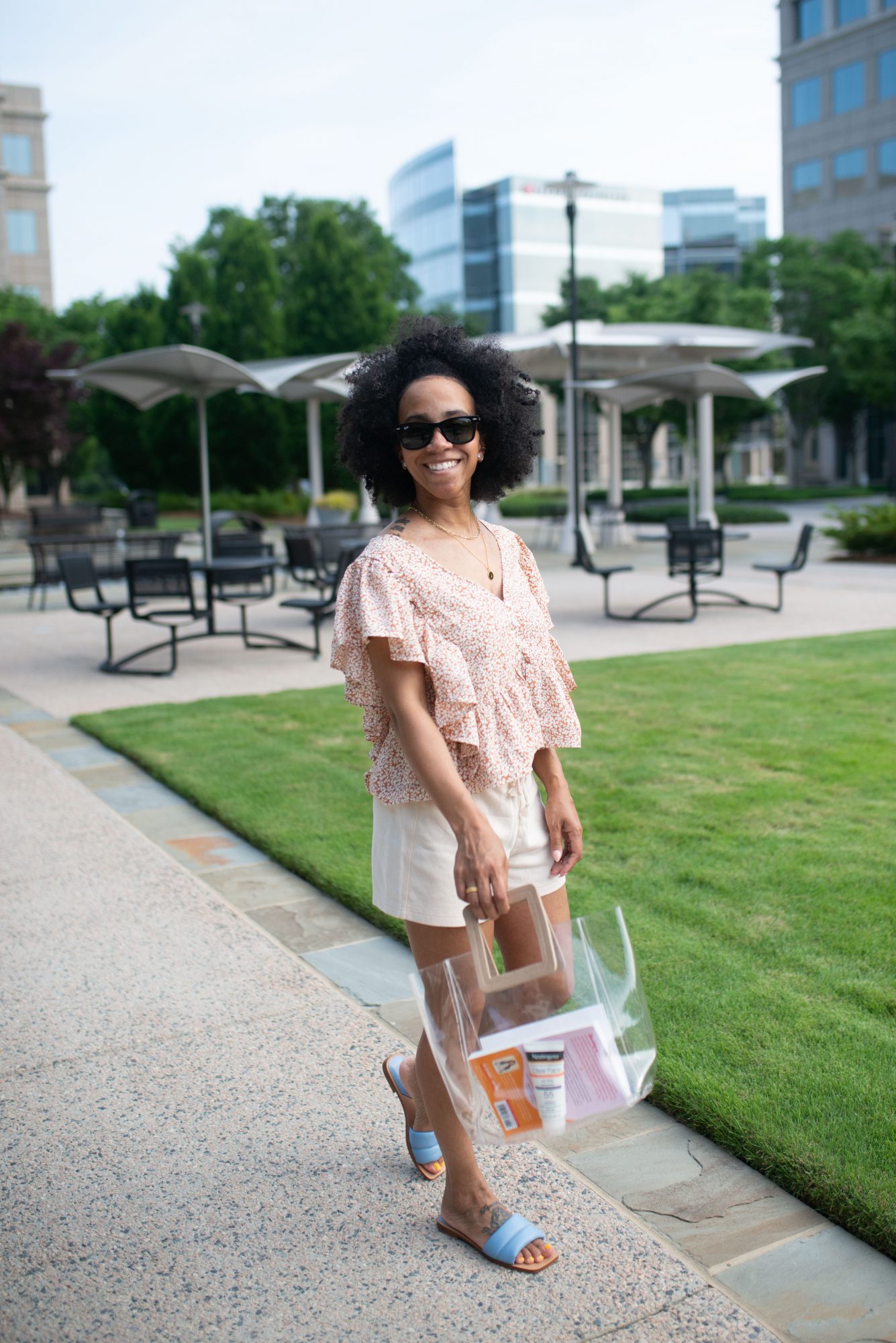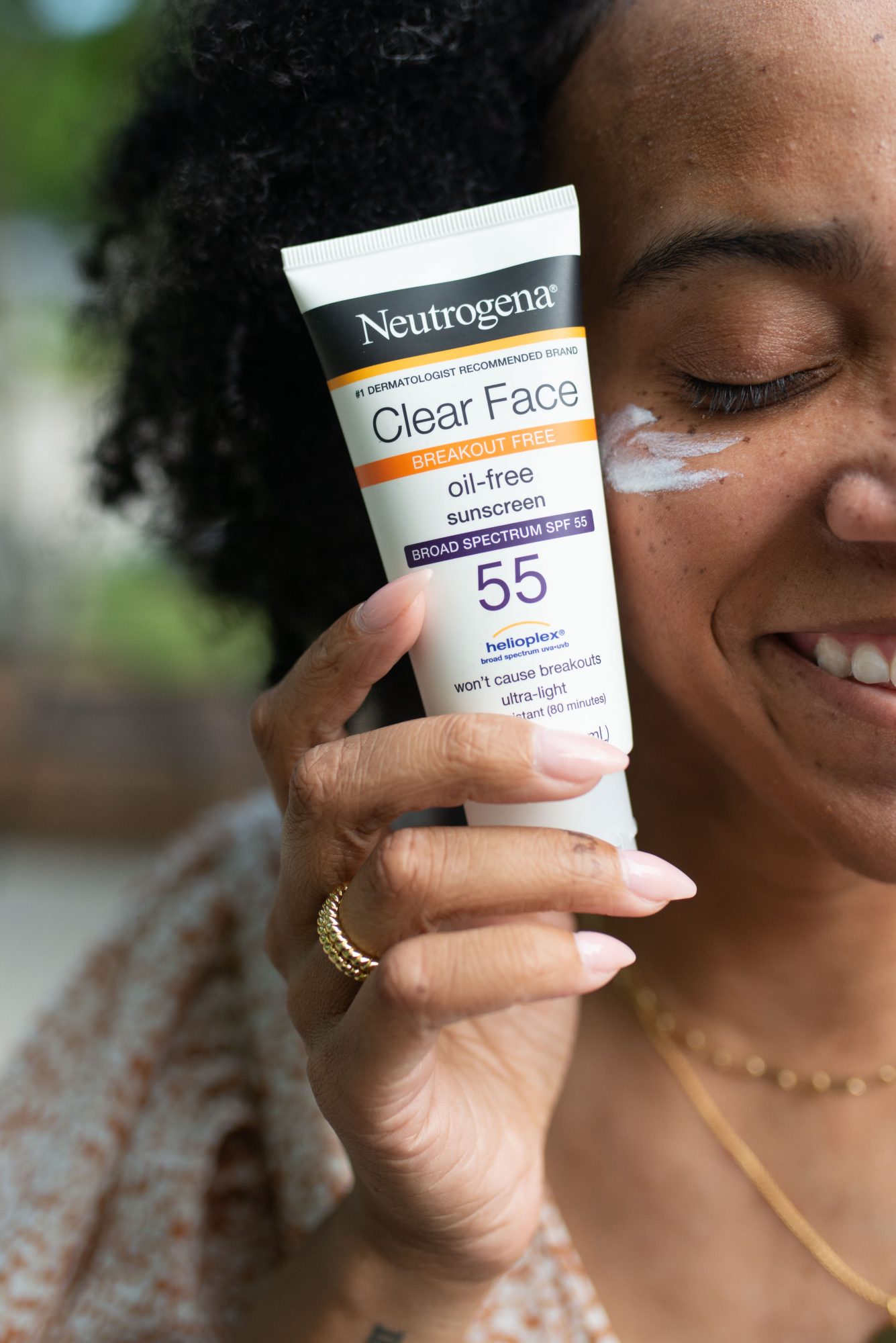 Why it's Important to Wear Sunscreen
Let's be real, temperatures are hot and that UV index isn't going down anytime soon. For that reason, there are still damaging UV rays floating around! I'm trying to have this youthful skin for as long as possible, so I've been making sure to use a moisturizer with SPF. And you're going to want to ensure you have a sunscreen that provides broad spectrum UVA protection.
Let's play the more you know game! Did you know…
☀️ 80% of the sun's rays can reach you, EVEN when it's cloudy outside?
☀️ UVA Rays are the aging rays
☀️ UVB Rays are the burning rays
☀️ The acronym SPF…stands for Sun Protection Factor
☀️ You should select the SPF level of your sunscreen based on the melanin in your skin AND amount of time you will be outside?
Now that we've gotten a few fun facts out of the way, do you know WHAT Sunscreen actually is and WHY is important?
According to Oxford dictionary, "a cream or lotion rubbed on to the skin to protect it from the sun." Sunscreen is known by many names, but it's used for the same thing – protection.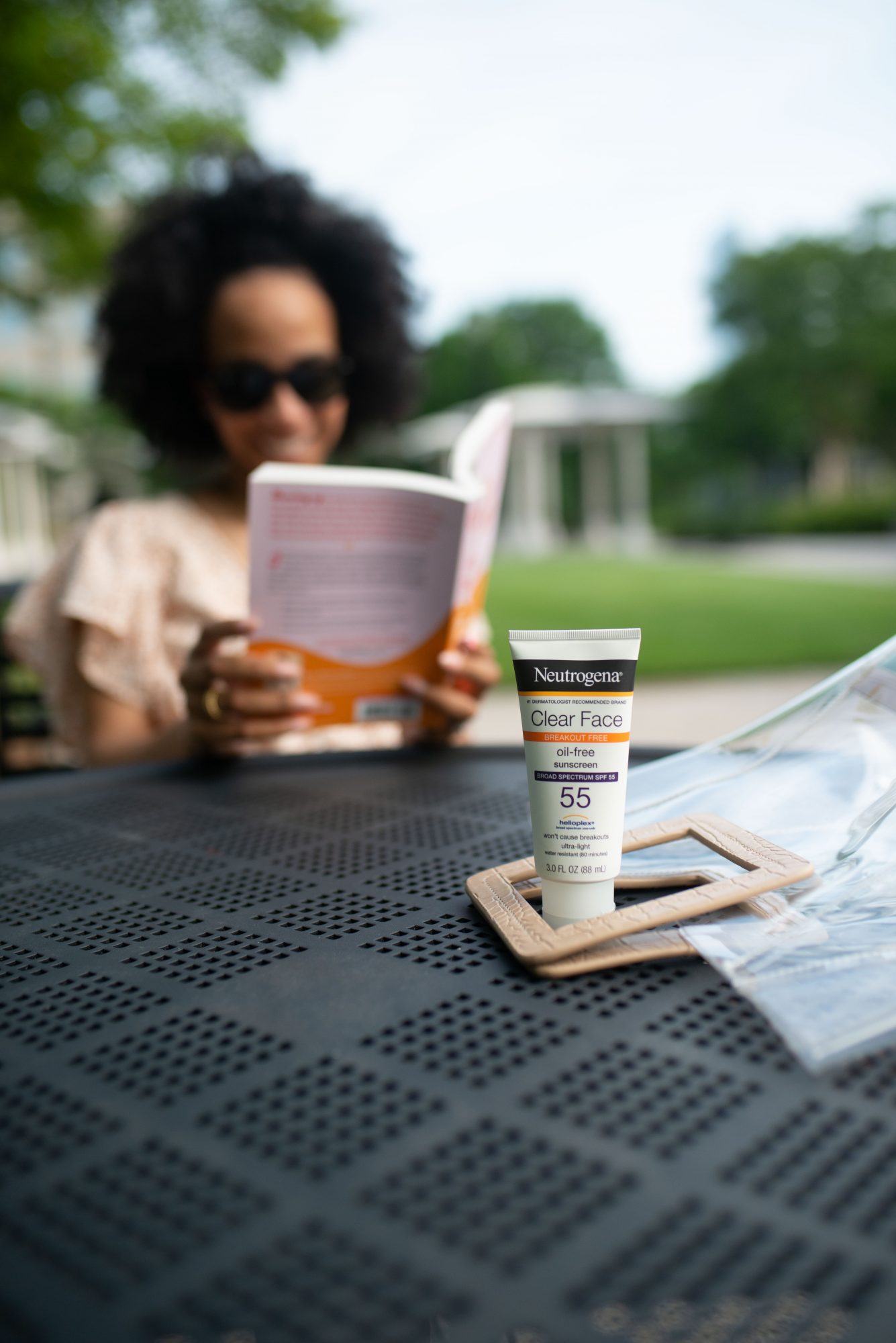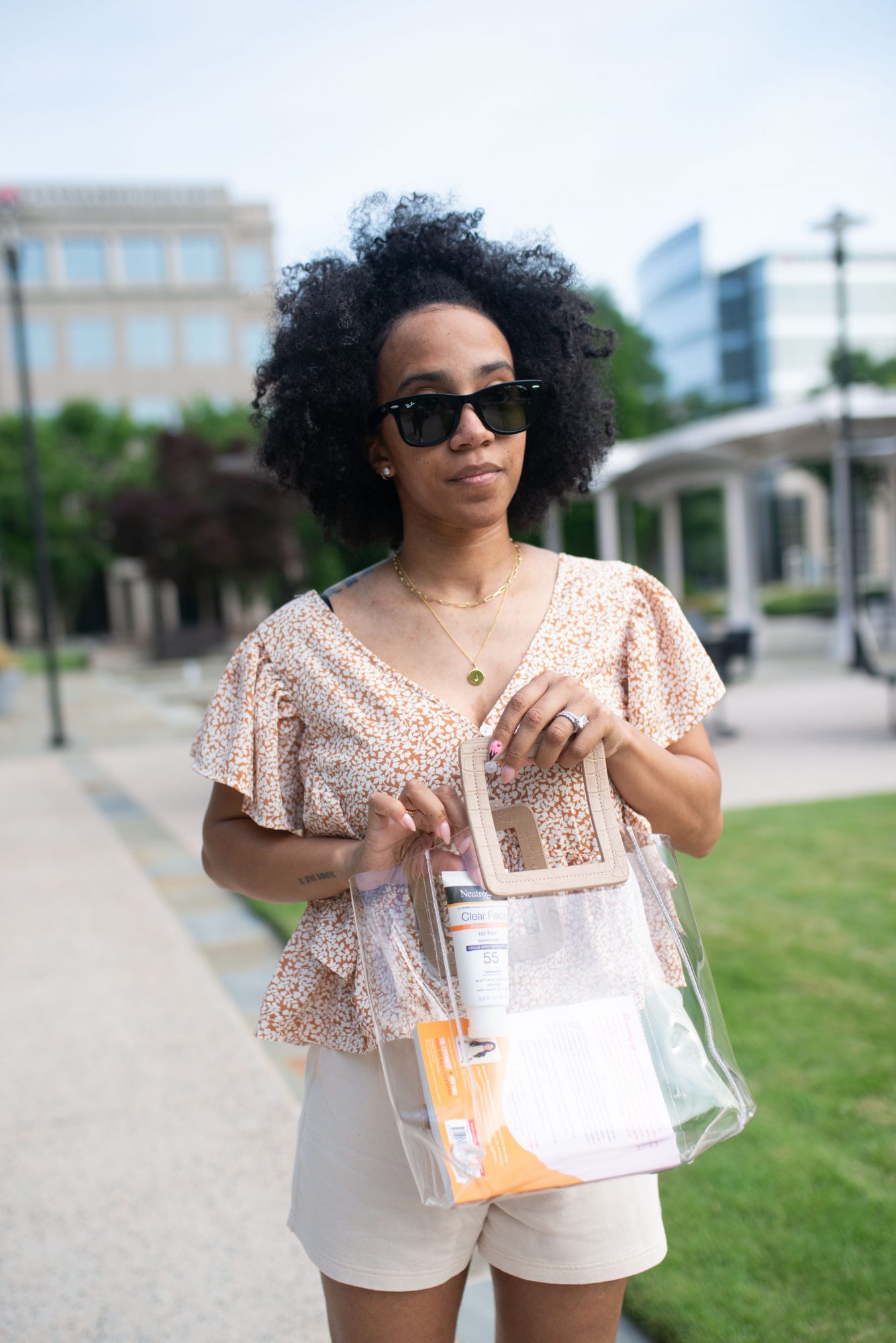 Sunscreen helps protect your skin from UV Rays!
So we know that there are different UV Rays, but we need protection from all of them. We all want to age gracefully and tastefully 😝 At least I do! Which is why I've added
Neutrogena
®
Clear Face Liquid Lotion Sunscreen
to my
beauty
tool belt. After I do my facial skincare routine, the final step is my sunscreen before leaving the house.
Sometimes, I will add a touch of blush, just to give my cheeks a hint of color. But really, the moisturizing and protective sunscreen is all I need…and of course a cute lip gloss!
How to wear sunscreen helps to keep your skin-tone even and reduces risk of hyperpigmentation.
For me personally, this was a BIG draw. I've been working on getting my skin tone even with my regular skincare routine. But to have something that will go the extra mile feels so good. I am not only protecting my skin, but I'm also treating it.
So when I go barefaced, I know that behind the scenes this sunscreen is putting in WORK, and it's water resistant for up to 80 mins. So if I'm sweating or swimming, I can grab a wipe clear my skin and reapply!
I hope these tips helped you and educated you on why it's important to wear sunscreen not just during the summer, but all seasons…even if it's cloudy out.
Until next time!