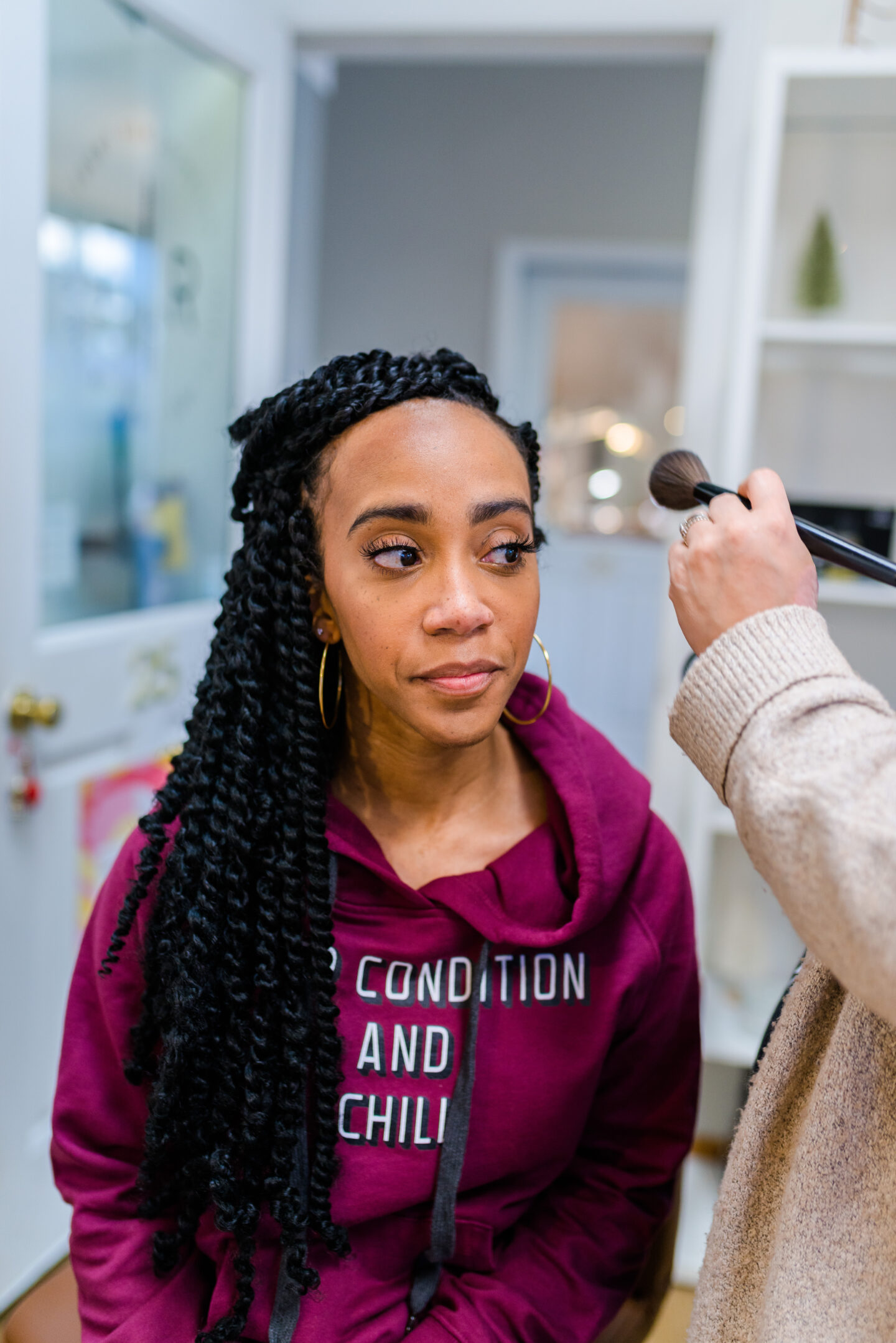 Hot off the press! Sephora is having their Annual Spring Savings Event – and let me tell you they did NOT disappoint this year! I'm sharing my top FAVORITE beauty finds. Some items are newer for me, other items are old reliables I've been using for quite some time. I mean from lippies and skin moisturizers, to hair care MUST HAVES, this post includes it all. Below is a full breakdown of each product; why I am obsessed with it and why you need to add it to your cart and beauty routine ASAP.
Before we dive in; here is the skinny on the sales event. And when you're able to shop based on status…
When you log into your Sephora.com account, under account info, you'll see what status you fall within. I am only an Insider, so I have to wait a few more days to ship the sale. The higher your status, the larger percentage off, also the earlier you can shop. In many ways Sephora's Spring Sale event reminds me of the coveted Nordy Anniversary Sale.
Rouge: Get 20% off from 4/9 – 4/19 with code OMGSPRING
VIBs: Get 15% off from 4/13 – 4/19 with code OMGSPRING
Insiders: Get 10% off from 4/15 – 4/19 with code OMGSPRING
As always, you've the option to shop online and do a store pickup. Or you can ship to your home, or head to your local Sephora. But if you're purchasing online, you're able to use Klarna. My understanding is whether or not you can do this, is based on credit worthiness. But essentially, it break up the cost of your total purchase (after tax) into 4 interest free payments. Personally, I make a habit of NOT using this option. But as a rule of thumb; if I have the funds in my account to purchase everything AT LEAST twice, then I'll use it. That way I know I can actually afford it. But to each their own!
Now that we've gotten all of the nitty gritty details out of the way, lets get into the good stuff; the products!
Sephora Spring Savings: Beauty Finds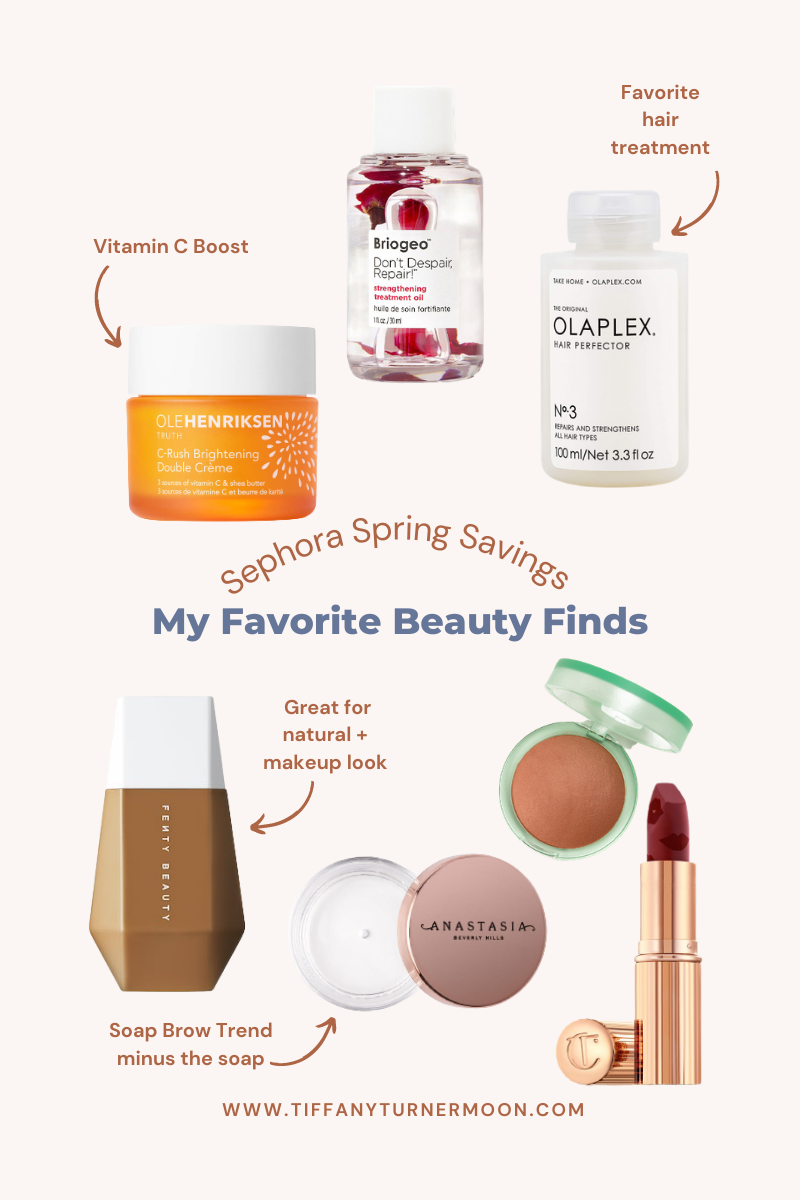 Shop The Collage: Ole Henriksen Crème | Briogeo Don't Despair Oil | Olaplex N*3 | Fenty Eaze Drops | Anastasia Brow Freezing Wax | Kosas Moisturizing Bronzer | Charlotte Tilbury Lipstick
Pricy side, but this small jar last you a while and packs a serious punch! It's great for all skin types. The Ole Henriksen Vitamin C moisturizer is a gel based cream hydrant that last up to 24 hours. It also helps to reduce those fine lines and wrinkles us ladies in our 30's are beginning to see. I swear! I turned 30 last march, and the fine wrinkles just began pop up, especially around my eyes. I'm not one for botox (at least not yet). So I try to stay hydrated with water and keep a good skin cream on deck. Originally I heard about this line, while watching Jenee (creator behind HighLowLuxxe.com) Instagram stories's. She swore by this line and uses it herself. I gave it a try and was instantly hooked.
If you've been following me for a while on IG, you know I am a curly girl; who is obsessed with deep conditioning and keeping my hair moisturized. I am also a no: parabens, sulfates or silicones kind of gal, that includes my oils and gels. Say hello to Briogeo's Don't Despair Oil! Not only is it silicone free, but it is also strengthening and reparative oil. I add a bit of shine to my hair. But when I am also able to treat my hair – it's a good dang day in my book!
Do not sleep on this product! This little bottle of magic deserves ALL the attention it's been receiving. Can we just give a quick round of applause ? to Rihanna for her Fenty Beauty: Eaze Drops Blurring Skin Tint. No lie, ya'll I am literally obsessed with this product. It not too light, but not too heavy. In all honesty, it reminds me of a nice BB Cream/Tinted moisturizer. Perfect for those days when you want to do a 5-minute, fast face of makeup but still look presentable.
True to Rihanna fashion, this line is just keeps giving! There are 25 different "flexible" shades to accommodate us all. See why I said it deserves a round of applause. In my beauty bag, I have the Fenty Pro Filt'R Soft Matte Foundation, Pro Filt'R Hydrating Longware Foundation and now the Eaze Drops Blurring Skin Tint. Hands down, the Ease Drops are likely my favorite, closely followed by the Hydrating Foundation.
Have you heard of the Soap Brow trend? It's where you use a brow brush and soap bar to shape/mold your brows. Resulting in fuller looking and shapely brows. Not a fan of it? No worries, Anastasia Beverly Hill came thru for the win! This Brow Freezing wax, allows you to sculpt your brows and hold them in place. It's such a hot item, it's sold out. ? But I had to include it in the roundup. I've been using it religiously and its a game changer.
I'll keep this short and sweet! I didn't know I needed this bronzer until I purchased it. I love my Fenty Beauty Bronzer, however the Kosas Moisturizing Bronzer, keeps my skin feeling smooth and give me a nice tanned sun kissed, almost contoured look.
Recently, worked with a color specialist. Ultimaely she was able to tell me what colors I should wear, that would best accentuate my features and coloring. When I got back the results, I was happy and socked. Pink is not my color ya'll, I was so sad! So I immediately headed to my local Sephora to snag some new lipsticks and eyeshadow pallets. One of the items I snagged was, the Charlotte Tilbury Lipstick! It comes in 15 shades, but I chose the shade 'Scarlett Spell – Winter Berry'. It's a limited edition – deeply rich burgundy color. And it's apart of the spectrum of colors that best suit me!
By hovering over the items above, you can find additional details on the products. Such as cost and even set an alert to know when items go on sale!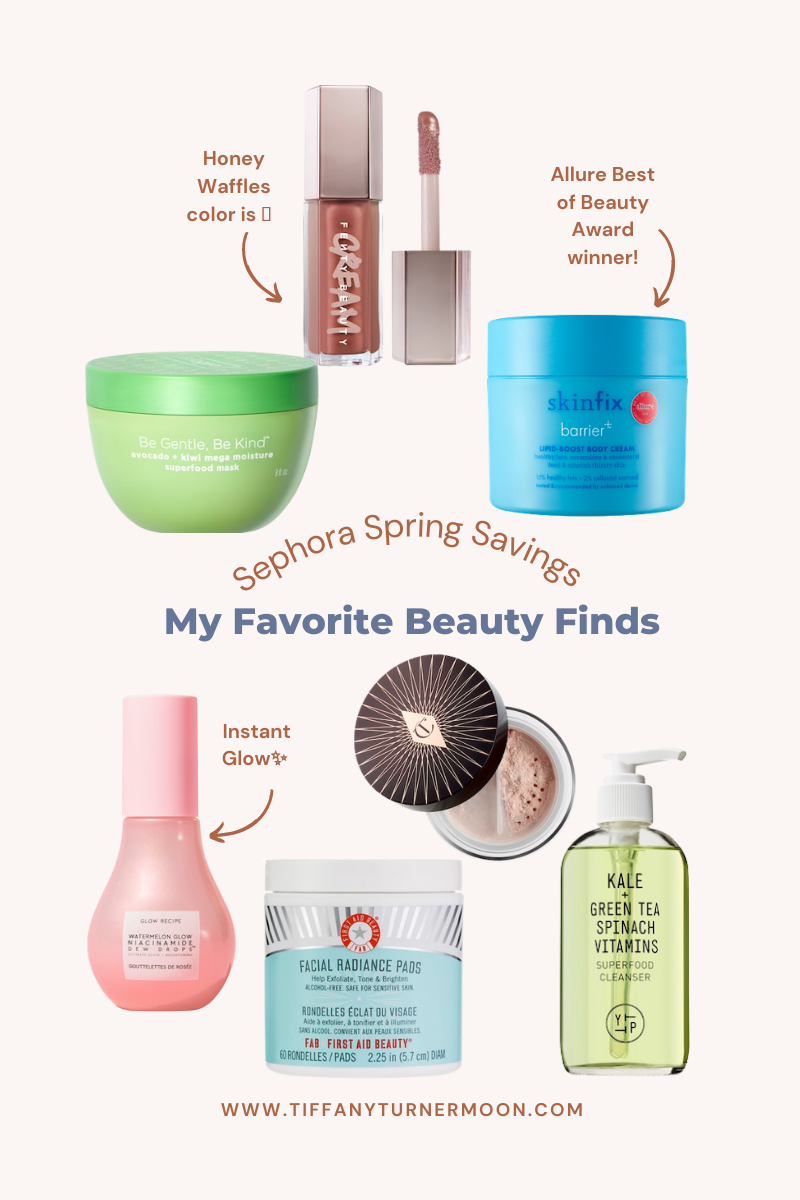 Shop the Collage: Briogeo Superfood Hair Mask | Fenty Cream Lipgloss | Skinfix Body Cream | Glow Recipe Dew Drops | First Aid Beauty Radiance Pads | Charlotte Tilbury Setting Powder | Youth to the People Superfood Cleanser
I told ya'll I love me some Briogeo! Especially since it's a Black Owned Business! And ran by a woman! Anyhow back to the goods. This hair mask is another oldie but goodie. The Briogeo brand actually gifted it to me and I was impressed. Though I don't use this hair mask ALL of the time; I have restocked it multiple times since my initial use. And when I do use it, I really like the end result of my hair. It leaves my hair feeling VERY moisturized. If I am completely honest, the smell is not my favorite. However the benefits of the clean ingredients, and how it feeds my strands; outweighs my dislike for it. So I definitely felt the need to mention it!
Another new addition to my beauty bag! I LOVE FENTY BEAUTY and I LOVE the Cream line!! I snagged this lippie in the color, 'Honey Waffles'; and HUNTEA, let me tell you – you cannot tell me anything when I put it on! It's a beautiful caramel color. It the gloss is a creamy one, but doesn't lack any shine. It comes in 5 colors and is considered a hydrating and high shine lipgloss.
Wrinkles don't just occur on the face, they can be anywhere on your body. When I hit the bit 3-0 last March; I made a commitment to myself to take better care of my skin and body. Inside and out. I know its awful I didn't do this prior to, but hey – we all gotta start somewhere. Now, I cannot give an in-depth review, as I've just begun using this cream. But what I can attest to is my ultra sensitive skin has NOT broken into hives since using it. Also I don't feel the sticky residue that some creams leave – when using this. Check back later for an updated post on a review of my most used skincare products!
Instant glow in a bottle, PERIOD! What did Ariana Grande, say? "My smile is beamin', my skin is gleamin', The way it shine, I know you've seen it (you've seen it)" You'll be signing this tune after using these drops on your skin! I really been trying to go a little lighter with my makeup. Hence using the Fenty Eaze Drops. When I put this on underneath, my skin is left feeling protected but not smothered. Put some drops on your skin, prior to your foundation or tinted moisturizer. You won't regret it! It also reduces the sight of hyperpigmentation!
Are you seeing a pattern here? LOL! I am here for all the glow I can get! I'm going to need you to get you some of these pads. My beautiful gal pal, Caralyn Mirand (creator behind CaralynMirand.com) is actually an ambassador for the brand. When I first began my skincare journey, I wasn't quite sure where to start. Caralyn pointed me in their direction and told me the Facial Radiance Pads were essential. She wasn't lying! These pads are a treatment pad used to exfoliate, tone and brighten skin. As recommended, I use mine twice daily (in the morning and night before bed). These pads have improved my skin, ten fold. They also don't burn when whipping my face, which is a must for me.
I know I am going to get hate for this; BUT I have tried the Fenty Beauty Setting Powder and I very much prefer this one. ? Hear me out! The Charlotte Tilbury Setting Powder comes in 3 colors. It's so lightweight! You literally don't even know it's there, but it does the job, giving your skin a smooth finish. It is a little pricey, but the smallest container goes a LONG way.
Last but not least, this is the final new addition to my beauty bag! Up until a year ago, I didn't realize just how important a cleanser is. But tell ya'll one thing – I do now! My skin is very sensitive (when it wants to be) and the Superfood Cleanse is gentle but effective. So far, so good – but I am still testing it, but I will make sure to report back!
By hovering over the items above, you can find additional details on the products. Such as cost and even set an alert to know when items go on sale!
I hope you are able to find a product you love out of this round up! As I mentioned early, keep your eyes peeled. I"ll be sharing a blog post in the coming weeks; giving you a rundown of my most used skincare products.
Until next time!