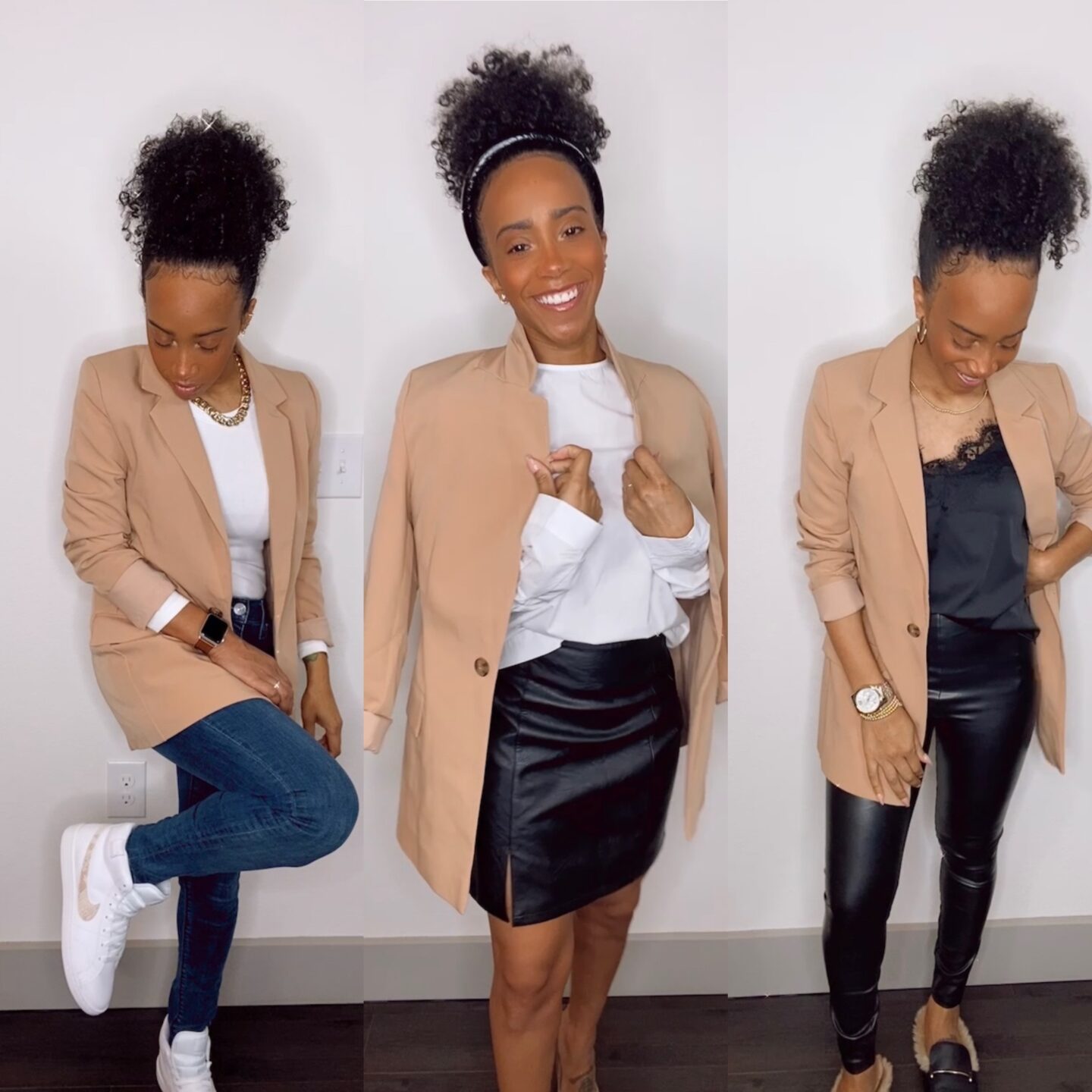 Welcome back to old friends and welcome to any new friends! Today is a special post, because I got to partner with the FABULOUS Caralyn Mirand, to bring you all this gorgeous blazer styled 3 ways on 2 different body types. Before we get started, I am going to link her post here, so you can check it out, once you're done with this one!
Let me take a moment to brag on my friend – she is known as the confidence crusader, creator of the Properly Fitting Bra Club and all around gem. Caralyn has taught me SO much about confidence, style and how to be authentic to who I am and to love myself for how I look. If you aren't following her on Instagram (@caralynmirand) I suggest you do! Between Caralyn, her husband turned "intern", BK and their fashionable dog Walter Harvey, you're in for a lot of laughs and a ton of inspo!
How to Style a Blazer 3 Ways
Now more on how I styled this blazer – as a petite woman, I sometimes shy away from certain styles. I can honestly say this blazer is for ALL body types. The sizing is super inclusive XXS-3X! I know, I jumped for joy when I saw this! My sister is taller and much curvier than me, and I plan on getting this for her, for her birthday!
For reference, I am 5'1, typically an XS (sometimes small) and petite – but that doesn't mean I can't slay with the best of them! This blazer is considered oversized, I probably could've sized DOWN to an XXS, but I wanted enough room to fit a sweater underneath it and NOT feel like my circulation was being cut off in my arms. ? All in all, I do think the XS fit me very well – it wasn't too loose or too snug.
Look #1: All Black!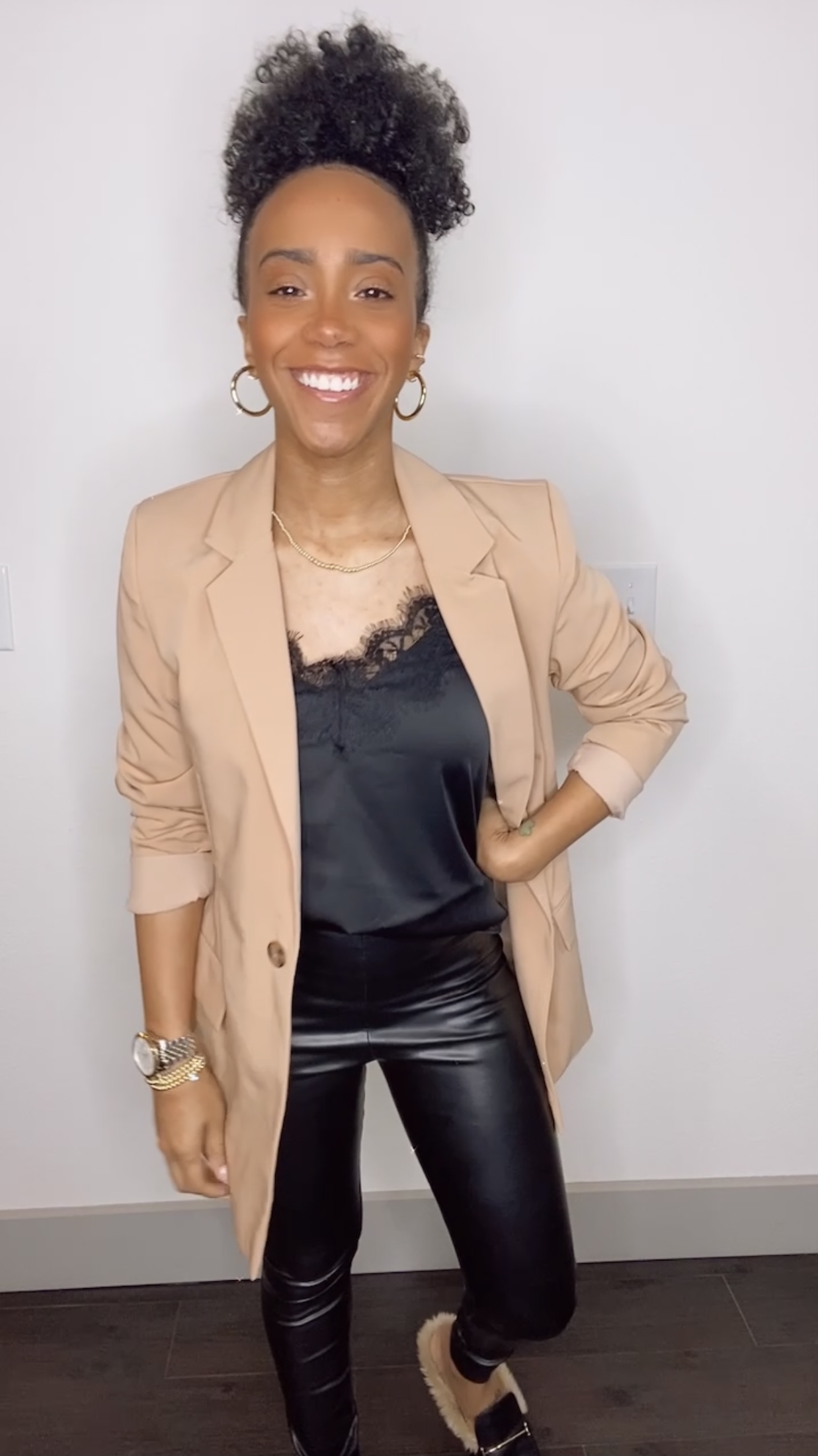 Before you say no to all black – it's an effortlessly chic look and can be made to fit a day or nighttime look! For my particular outfit, I styled it with a lacy cami, faux leather pants & mules! I wanted to look a little dainty so I went with beaded jewelry and chunky hoops + watch for a pop. With a red or burgundy lip…this outfit is a winner.
Look #2: Jeans, White Bodysuit & Hightop Sneakers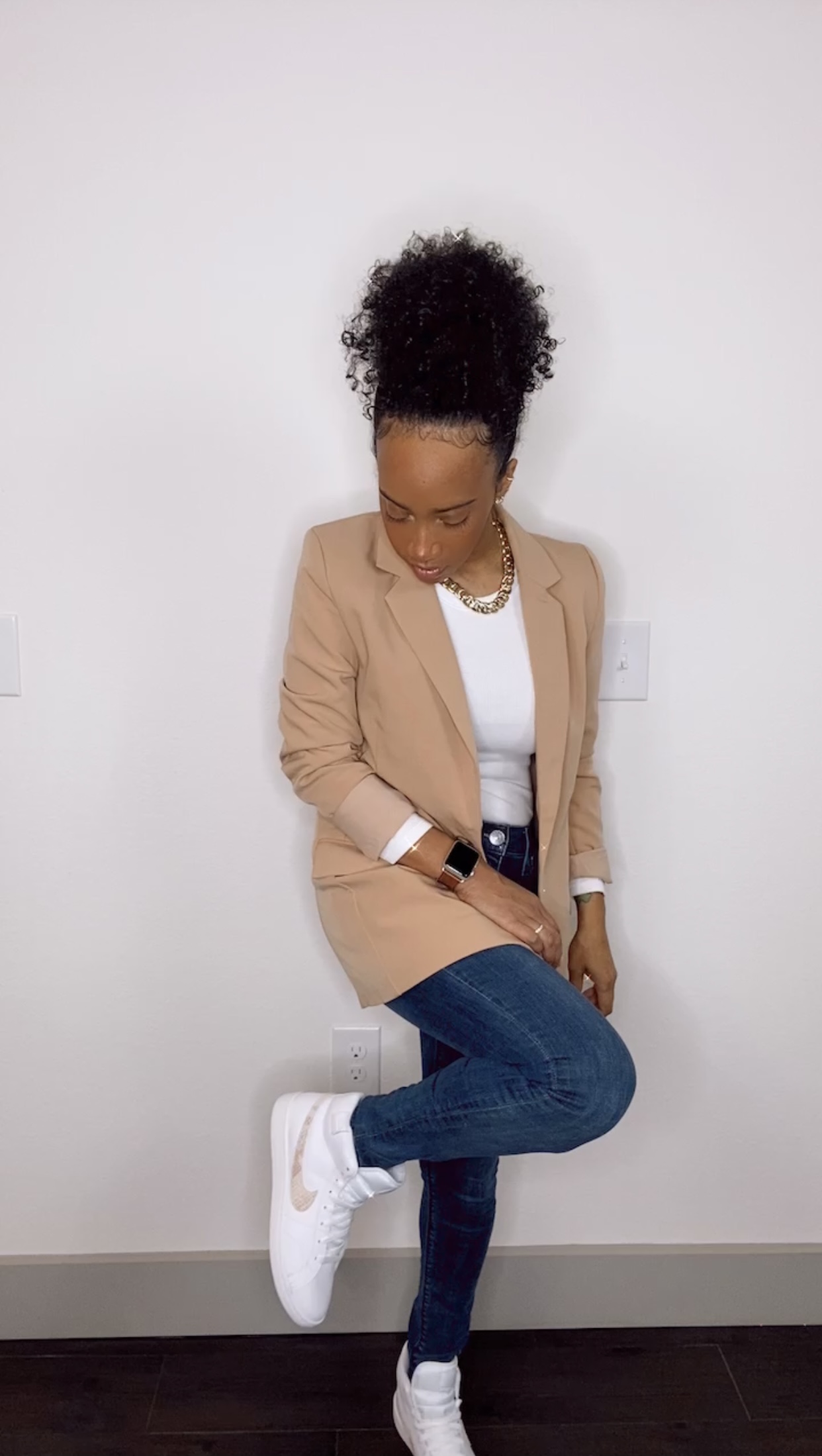 I styled the blazer with hightop sneakers and a white body suit! So when I saw these sneakers, I KNEW they would look awesome with my blazer. The nike strip is a faux snake patter, mixed with taupe, brown and a light cream. And we cannot forget the chunky necklace! I am OBSESSED! This is a look I would wear to brunch or to run errands. Its giving me sporty but chic vibes. Also one of the biggest trend this season are chunky necklaces, especially layered. Get you one!
Look #3: Faux Leather Skirt, White Top & Pumps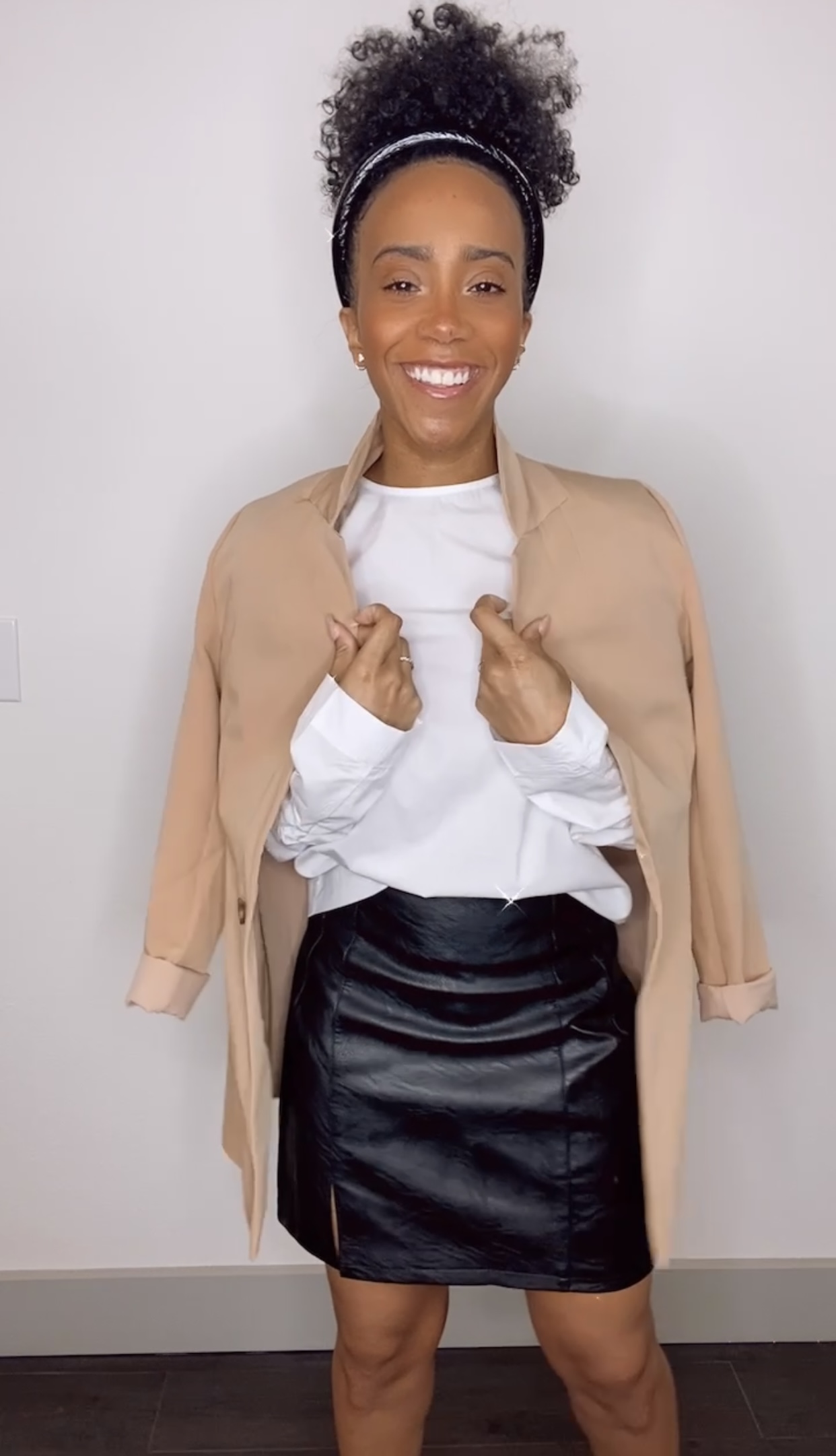 Likely my favorite out of them all…a Date Night look! Coming in hot and spicy! Whew Chile! For this look, I went very basic where jewelry is concerned. Paired with a mini skirt (that is currently on sale!) and pumps, it looks like I have legs for days! The blazer helps to 1. add pop of neutral color but 2. also add a different texture as the skirt is like a pebbled material. I apologize, I didn't get a photo with my heels but I've linked them below, they are ombre paten leather pumps and compliment the outfit beautifully! But listen here, my husband has literally already asked me when I am wearing this look to dinner with him (insert eye roll here) ? … so be careful if you wear this in front of your significant other!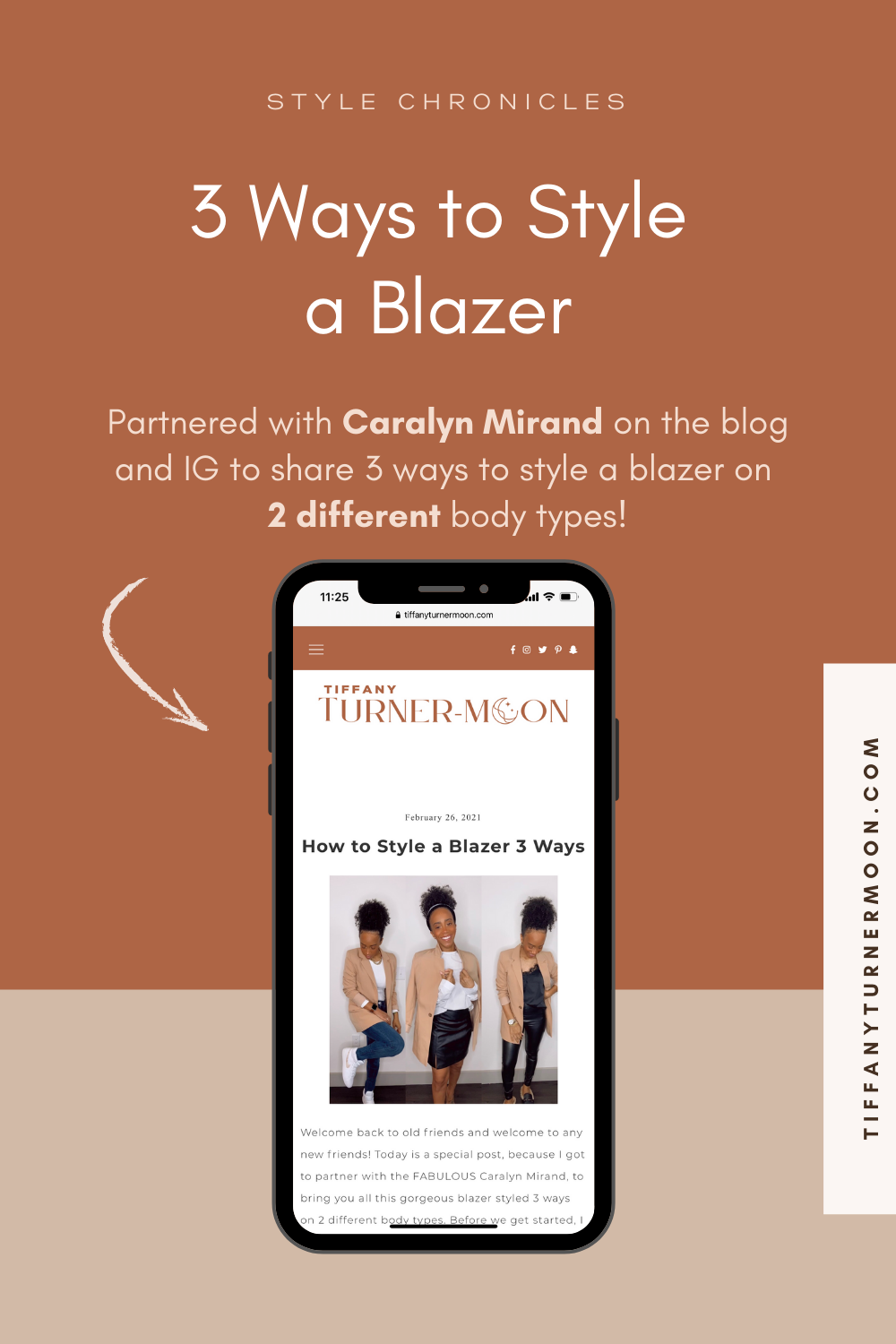 As always you can shop my entire post below, I've linked everything! If you're want to see how the outfits look like and in motion, head to my instagram and check out my latest reel linked here.
And don't forget to check out Caralyn Mirand's blog post for how she styled the blazer to fit her size. Also check out HER latest Instagram Reel to see her looks in action! While you're there, make sure to sign up for her newsletter, she shares some amazing beauty, fashion and recipes!
SHOP THE POST
Until next time!